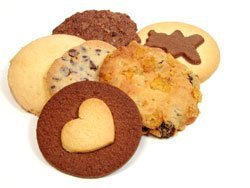 Preparing for Freezing:
Cookies should be completely cooled before freezing.
Best Freezing Method(s):
Regular Cookies: This includes most cookies like peanut butter, chocolate chip, sugar, shortbread, etc. Bake and cool completely. Place them in rigid containers or plastic bags for freezing.
Frosted Cookies: Freeze cooled frosted cookies on cookie trays or plates until frosting is firm, then transfer them to airtight containers or plastic freezer bags.
Meringue Type Cookies: These cookies do not freeze well.
Cookie Dough: Form dough into a cylinder and seal in plastic or heavy-duty aluminum foil. Commercially prepared cookie dough that is vacuum packed should not be frozen due to the contents being under pressure. Non vacuum packed dough can be frozen the same way as homemade cookie dough. Freeze pre-cut unbaked cookies the same way you would freeze baked cookies.
Suitable Packaging:
Freezer containers should be moisture and vapor resistant and should not be prone to cracking or breaking at low temperatures. Containers should provide protection against absorbing flavors or odors and should be easy to label. Suitable packaging for freezing cookies includes freezer-grade plastic bags, rigid plastic containers or glass containers, tins and heavy-duty aluminum foil.
Separate layers of cookies or pre-cut dough with wax paper.
Maximum Storage Time:
Baked cookies and cookie dough will both freeze for 6 months or more at 0ºF when properly wrapped and sealed.
Thawing:
Cookies: Thaw cookies at room temperature and serve.
Cookie Dough: Let the dough cylinders defrost in the refrigerator (about 2-3 hours). Let pre-cut cookies thaw on the cookie sheet for several minutes before baking.
Tips & Shortcuts:
Store a variety of cookies in the freezer in pre-portioned bags to save yourself time during holiday entertaining or to have on hand for unexpected company. Individually wrapping them before placing them in containers will keep them fresh longer. Imitation vanilla does not hold its flavor well when frozen, and spices like nutmeg and cloves tend to intensify during freezing.
Refrigerating Cookies:
Keep cookie dough and cookies containing cream frosting or cream cheese for 3 to 5 days. Baked cookies will stay fresh at room temperature for up to 1 week.