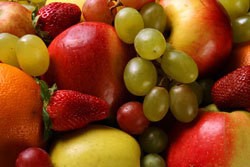 Selecting High-Quality Fruit:
Select fruits for freezing that are ripe (or have started to ripen), have good color and are free from cuts, scars and mold. They should feel firm in texture (not hard), be free of soft spots and have a sweet odor. Plan to process fruit as soon as possible after harvesting. Purchasing fruit is least expensive when it's in season. Buying in bulk from farmers markets or road-side fruit stands is usually a much better value than buying from a supermarket. Organic fruits are more likely to be free of pesticides and will not be coated with wax.
Preparing for Freezing:
Wash fruit thoroughly; peel, core and cut it as quickly as possible to avoid discoloration and maintain freshness. Some fruits may be frozen whole and others may be cut up or pureed. Many fruits, such as apples, apricots, bananas, peaches and pears, will discolor when exposed to air or during the freezing process. To avoid this, they can be pretreated with an antioxidant. Make your own using 3,000 mg of ascorbic acid (vitamin C) to 1 gallon of water. Fruits can be dipped in this solution during preparation, or 1/4 teaspoon can be added as they are packed into containers for freezing. Commercially prepared antioxidants like Fruit-Fresh or Ever-Fresh can also be used.
Best Freezing Method(s):
Unsweetened Dry Pack: Place fruit in a single layer on cookie sheets (pretreated with an antioxidant if necessary) and place them in the freezer. Once firm, transfer fruit to suitable containers, label and freeze.
Sweetened Dry Pack: Sugar packs prevents fruit from darkening and work well on juicy fruits like peaches and strawberries. Stir the fruit and sugar together until the fruit flesh is coated and the sugar has dissolved. Plan on 1/2 to 2/3 cup of sugar to each quart of fruit for freezing. Transfer to suitable containers. Seal, label and freeze.
Syrup Pack: Although sugar isn't necessary for preserving fruits, freezing them in a sugar syrup helps to maintain good color and texture. Honey or maple syrup can be substituted for sugar, and sweetened or unsweetened juice can be substituted for the syrup and plain water. It usually takes 1/2 to 2/3 of a cup of cold syrup or liquid for each pint of fruit; 1 to 1 1/2 cups syrup or liquid for each quart. Add fruit to suitable containers. Cover in syrup. Seal, label and freeze.
Preparing Syrup:
| | | | |
| --- | --- | --- | --- |
| Syrup Type | Water | Sugar | *Honey/Maple Syrup |
| Light | 4 Cups | 2 cups | - |
| | 3 Cups | - | 1 Cup |
| Medium | 4 Cups | 3 Cups | - |
| | 2 Cups | - | 2 Cups |
| Heavy | 4 Cups | 4 1/2 Cups | - |
* Do not use honey as a substitute for sugar on fruits given to children under 1 year of age. Honey can contain botulism spores that cannot be destroyed by the intestinal tracts of infants. Syrups need to be brought to a boil to dissolve the sugar (use stovetop or microwave). To keep syrup warm for processing, pour it into the carafe of a coffee maker (not into water well) and turn the burner on, or hold it in an oven set on warm.
Suitable Packaging:
Freezer containers should be moisture and vapor resistant and should not be prone to cracking or breaking at low temperatures. Containers should provide protection against absorbing flavors or odors and should be easy to label. Suitable packaging for freezing fruit includes freezer-grade plastic bags, rigid plastic containers or glass containers and heavy-duty aluminum foil or aluminum containers.
Maximum Storage Time:
Most fruits will keep 9 to 12 months at 0ºF.
Thawing:
Fruits can be thawed at room temperature, in the refrigerator or under cold running water. Leave them in the container while thawing. Frozen fruit needed for cooking and baking may be added without thawing.
Tips & Shortcuts:
Fruits that freeze well using the unsweetened "tray" method include apples, berries, cherries, currants, figs, grapefruit, grapes, melon, persimmons, plumbs, or other fruits you don't want frozen together in a mass.
Read More Comments
I have lots of summer fruits and end up having to throw them out. I'd like to make a fruit salad to freeze. Can anyone give me some help please? I don't have any canning equipment.
By Sandra from Newcastle, Australia
Answers
January 24, 2011
0

found this helpful
Check out this link for freezing assorted fruits and veggies:
www.uga.edu/.../freeze.html
Many fruits simply turn to mush when frozen and and thawed (even thawed in the refrigerator) and will need to be used in assorted recipes and things like smoothies. Unless they are 'just the right fruits' it's doubtfull they'll freeze well for fresh fruit salads.
January 25, 2011
0

found this helpful
I got a food dehydrator at a thrift shop and use that to dehydrate much of the fruit from my trees. I then put them in plastic bags in the refrigerator.
January 25, 2011
0

found this helpful
Greetings, you can also hydrate fruits in the oven or on a sunny day on a screen in the sun, it takes about 2 days and you need to bring them in at night to avoid extra moisture. Be sure to cover the fruit with cheesecloth to protect from bugs. This is not quite the answer you were looking but it does save the fruit, when my kids were at home I would chop and freeze fruits in small portions and we would eat them frozen, still do with my grandaughter. You may also try making fruit leather which holds up very well and can later be reconstituted into drinks (disovled in boiling water). Hope this helps some, wish you were closer I live in a big city not much room for orchards or gardens.
Answer

this Question

...
A great way to save money is to freeze fruit when it is in season and inexpensive, so that you can use it throughout the year. This is also useful if you have a garden and want to enjoy the "fruits" of your labor for longer. Here are a few tips to help people new to freezing produce.

- Use ripe fruit, but not overripe and mushy.

- All fruit should be cleaned well.

- Remove unwanted parts; stems, bruises, etc.

- Cut fruit to the desired size. Keep in mind what youplan to use it for.

- Divide your fruit into portions that will be useful in the future. This will allow you to thaw just the right amount of fruit when you use it.

- To preserve fruit color and texture, add sugar.

- Freeze in air tight containers that keep out both moisture and air.

- Prepare the fruit in a sterile environment.

- Mark packages with frozen fruit and be sure to rotate.Always use the oldest first.

- What works best for me is packaging in bags. Use bags that are intended for freezing. Squeeze as much air out as you can before sealing the bag.

Tip: One way to prevent some fruit from sticking together, like strawberries, for example, is to first freeze them on a cookie sheet until they are solid. Then when you transfer them to their container for long term storage, they will be less likely to stick together.

Answers:
Fruit all year!
Fruit Slushy: My kids like fruit in phases. At times they will eat it as fast as it comes in the house. Then, usually after a big purchase of fruit, they decide they've had enough and won'ttouch it. When this happens, before the fruit gets too ripe, I cut it up and freeze it, saving it for a nutritious, high vitamin and fibre slushy. Just blend the fruit with water or juice, a touch of sugar or honey. Fruits great for this are watermelon, any berries, peaches, plums, mangoes and kiwis. Bananas and yogurt (especially homemade yogurt that hasn't set) are also good to add. (12/12/2000)

By Lori

Fruit all year!
Freezing Blueberries: It's way past their season this year, but blueberries are especially easy to freeze. Wash, dry, and put on trays in the freezer. After they're solid, put them in zip-lock bags, and freeze. It they were dry before they were frozen, you will be able to use just a portion of a bag. They will remain separate.(12/12/2000)

By Kate