July 22, 2006
0

found this helpful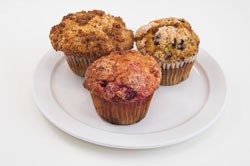 Muffins hold up in the freezer pretty well, however it is no more possible to restore that crispy right-out-of-the-oven top after freezing, than it would be if you stored them at room temperature. Certain fillings (cream cheese, etc.) may lose texture when frozen. Muffins can also become sticky after being thawed and are likely to lose some of their flavor if stored in the freezer too long.
Best Freezing Method(s):
Baked Muffins:
Bake muffins as usual. Remove from muffin pan and cool. Once cool, transfer the muffins into freezer-grade plastic bags or wrap them individually in heavy-duty aluminum foil. Seal, label and freeze.
Muffin Batter:
Prepare batter. Freeze until firm in baking pans. Once firm, remove batter from pans and transfer to plastic bags for freezing. Batter can also be frozen in airtight plastic containers (ice cream pails, etc.). Thaw in refrigerator when ready to bake and scoop batter into pans.
Suitable Packaging:
Freezer containers should be moisture and vapor resistant and should not be prone to cracking or breaking at low temperatures. Containers should provide protection against absorbing flavors or odors and should be easy to label. Suitable packaging for freezing muffins includes freezer-grade plastic bags, rigid plastic containers or glass containers and heavy-duty aluminum foil.
Maximum Storage Time:
2 to 3 months at 0ºF
Thawing:
Place them on a baking sheet (or leave them wrapped in foil) and pop them in a warm oven. If you're in a hurry, defrost them in the microwave. Thaw batter in the refrigerator before baking.
Tips & Shortcuts:
Wrapping muffins individually or in meal sized portions makes it easy to grab what you need without exposing the rest of the muffins to moisture.
Refrigerating Muffins:
It's best to store muffins covered at room temperature, but if you need to refrigerate them (cream cheese filling, etc.), muffins should be wrapped tightly or placed in a sealed container or plastic bag to avoid becoming soggy or dried out in the refrigerator. Consume quickly for best quality.