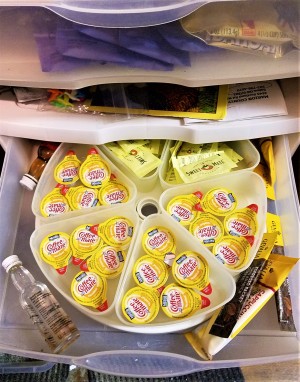 This was a lovely invention. But I lost the lids and have glass shelves. So today I got tired of rooting around for my creamers and sugar subsitutes. I also fit some coffee things like flavors and such.
When I found it would fit, I loved that there was enough room to keep it on it's turntable. This means I don't have to pull the drawer out so much.
Other things you could use it for are toothpicks, bottle caps, hard candy, and all manner of kitchen stuff.
If you are a crafter, how about sewing items. For the office, paper clips, and so much more.
N-JOY!