Frugal Gift Ideas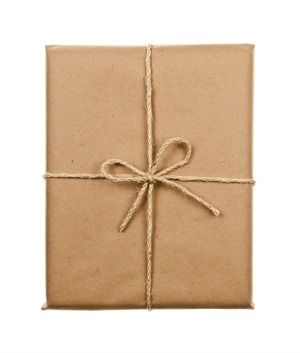 It doesn't have to cost a lot of money to show people you care. This guide contains
frugal gift ideas
.
Solutions
Share on ThriftyFunThis guide contains the following solutions. Have something to add? Please share your solution!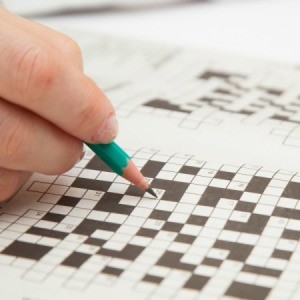 This is a frugal holiday or birthday gift idea for people who like crossword puzzles. If you get the daily newspaper, or have a neighbor who does (and doesn't do the crosswords), do this:
Cut out the crossword puzzle, and find the page that has the solution on it. Staple, glue, tape, or otherwise fasten the puzzle and the solution back-to-back so each puzzle has its answers right with it. Collect as many puzzles as you'd like to give. You could one from every newspaper for a year and give it for Christmas or a birthday.
Add a pen, a cheap clipboard or other hard surface, and whatever else you think would go with a bunch of crossword puzzles. Put it in a box and wrap it with (what else?) the Sunday comics.
If your friend gets the same paper you do, ask a neighbor who gets a different paper, or gather old crossword books and cut out the used ones and their solutions.
If they really like a challenge, don't attach the solutions. Either put them in, loose (and they have to sort them out) or don't include them at all.
And when they're done with the puzzles, they can be thrown in the recycling bin (minus the staple or tape.)
Source: I got this idea because I usually keep the section of our newspaper that has the comics, but I kept the whole section. I have slowly been going through them and cutting out the comics I wanted to keep, and any undone crossword puzzles, and of course, I want the solutions, so I attach those, too. So I have this folder of thirty or so crossword puzzles.
By Saber from Omaha, NE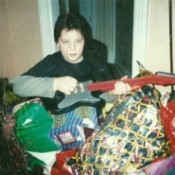 Here are some frugal and funny gift ideas:
Wrap a strainer with a nice ribbon and attach a card that says, "We could not restrain ourselves from wishing you a Merry Christmas!".
Put ribbon around a box of hot chocolate with a card that says, "Wishing you a warm and wonderful Christmas".
You can do this with a box of microwave popcorn, write, "May your Christmas be poppin".
On a box of candles write, "May your days be happy, your heart be light, your Christmas merry and the new year bright".
Put ribbon on 2 litre bottle of root beer and write, "We're rooting for you to have a happy holiday season!".
Source: Simply Frugal
By coville123 from Brockville, Ontario
For an inexpensive holiday gift, for a teacher or neighbor. Get a whisk and fill the inside with kisses. Cover the outside with plastic wrap and and decorate with a ribbon. Also, for extra cuteness, add a little tag saying "We Wisk you a Merry Kiss-mas". It went over very well with the teacher last year!

By Jen from PA
October 25, 2007
1

found this helpful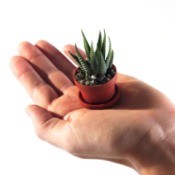 Ideas for frugal gardening or yard gift ideas as suggested by the ThriftyFun community.
Mini Roses
I would buy a mini rose bush at a department store. You could always dress up the container pot with fabric or a ribbon tied in a bow. They are indoor plants but are very cute. About $10.00.
by rudys mom
Beaded Butterfly Garden Art
While recently visiting a friend's garden, I saw these small adorable beaded butterflies. Just get some small craft beads and wire to form the butterfly shape. A stick wrapped with green beads can be easily attached. I'd make 3 of these for an unusual garden decoration.
by sandra b.
Garden Ornament On A Stake
I am thinking something you can attach to a stake for a garden ornament. Check out the dollar stores and see if they have something you can improve.
by cookwie
Tea Cup Bird Feeder
Make a tea cup bird feeder.
Materials
teacup and saucer (found at local thrift shop)
copper tubing (1/2" about 2-3 inches long)
copper end cap (to fit 1/2 inch or whatever size your tubing is)
old spoon (optional)
bird seed
strong silicone glue (for outdoor use, clear works best)
piece of rebar or other strong pipe to pound into the ground.
Instructions
Glue the end cap on the saucer bottom. Glue the cup and saucer together. Glue on a spoon for the birds to perch (optional). Pour birdseed into cup. Pound your piece of rebar into the ground. Put the copper tubing over the rebar. Insert the copper tubing into the copper end cap and enjoy.
*By using the copper end cap it will make cleaning and winter storage a snap. Just pop off your cup and saucer, dump and refill or take inside for winter storage.
by Momof1
Editor's Note: Another version of this feeder can be found by clicking on the picture above or following this link:
Stepping Stone
You could also make a stepping stone. Just use a tin pie plate, quick drying cement and you could always write a name and add some small things. I've going to try this for my grandsons, sounds like a neat craft and something for them to keep.
by Grammar
Dollar Stores
There are great garden things available at the dollar stores now. You could get a plant and decorate it. Or cover a bowling ball with mosaic to make a garden ball - or find a plaster sculpture and spray with white paint?
by Pamphyila
Editor's Note: Here are instructions for making a garden ball:
Craft Ideas From Your Own Yard
How about handmade stationery with leaf prints from plants in your yard (dip the leaf in paint and press it onto plain paper)? Or a wreath made from vines in your yard? It wouldn't have to be very large, and you could decorate it with acorns and with leaves dipped in glycerin and dried. Got pine cones? Dip them in peanut butter and then birdseed to make nice bird feeders. Add a hook on the base to hang. A picture frame made of sticks glued or tied together at the corners.
by Jantoo
Bark Framed Butterfly Gift
I recently had to make a quick gift for a friend who likes outdoor things. I took a small wooden picture frame and covered it with bark paper. I then put a piece of handmade paper inside the frame (the kind that has flecks of bark, etc). Then I added a butterfly that I had bought at a euro shop for practically nothing. Finally, I cut some of the dead wood off of my own vines and glued that on for interest. Leandros liked it a lot and it was very inexpensive to make, and it was a quick project.
by Lisingreece
Cactus In Tea Cup
What I have done before is to use a cup and saucer and place a cactus in a cup of moistened soil. Place it in the garden or on a windowsill. Water once a year, if indoors.
by Flowerchild
Birdhouses And Feeders
I would think that if someone likes gardening, she probably likes birds. A simple and cheap gift would be a bird feeder and a bag of seed.
Another idea would be a dollar store or craft store wooden birdhouse painted and decorated by you. Go wild with the colors, then spray with clear finish, also available at the dollar store and it will last outside. Good luck!
by Hugus
Cookie Jars As Yard Art
I have a friend that goes to yard sales. She goes to buy cookie jars, if available. Then she uses them as decorations in her flower gardens and even in her vegetable gardens.
by Irene
Feel free to post your ideas below.
Kelly Ann Butterbaugh
1

found this helpful
We've all heard that it's the thought that counts, but what could have more thought than a handmade gift. The craft-impaired need not worry. These gifts are easy, cheap, and perfect for the holidays (any of them!)
Read More...
December 12, 2005
1

found this helpful
For a frugal and fast gift bag, use a brown paper lunch sack. Take a bag and fold it down about 1 - 2 inches from the top. Take a hole punch and put 2 holes in the center of the flap you just made...
Read More...
August 2, 2005
1

found this helpful
When it comes to birthdays and holidays, sometimes people are strapped for cash. In those instances, my family gives "services" for gifts.
Read More...
February 11, 2005
1

found this helpful
Here is an idea that helps when you accidently have forgotten a special occasion and need a gift. These can be kept in a pantry or closet area or where ever you can find some space. . .
Read More...
August 24, 2007
0

found this helpful
For cute holiday gifts that don't cost a lot use the cake decorating bags used for frosting cakes and fill with ingredients for your favorite recipes. Just tie the recipes to the bag and add cooking directions.
Read More...
Questions
Ask a QuestionHere are the questions asked by community members. Read on to see the answers provided by the ThriftyFun community or ask a new question.
I am needing ideas for nice, inexpensive gifts for my sister, sister-in-law, and brothers-in-law.
By Maria from Canada
April 11, 2010
0

found this helpful
I like gift cards. I'm in 7th heaven whenever I get one to Barnes and Noble. But gift cards to a favorite restaurant or store would also be nice. Tickets to a move or event that they would be interested in would also be nice. Or you could give them a household type gift, like a set of sheets or towels or something.
April 11, 2010
0

found this helpful
Gift cards, good luck.
April 11, 2010
0

found this helpful
You should really consider what they like, what their interests are. For example, my sisiter likes to feed hummingbirds in the summer time. She has a feeder but always has trouble cleaning it. I found a hummingbird feeder cleaning set. My brother is very earth friendly/conscious so I got him a subscription to Mother Earth News.
These gifts didn't cost much and showed them I was really thinking about them and what thier interests were. Even making a card with markers means more than buying one. I do that for my kids.
April 14, 2010
0

found this helpful
Magazine subscriptions?
A cake and/or dinner delivered on their birthdays?
Pictures in frames?
Hobby tools & equipment?
A pampering basket?
Homemade Cd of favorite songs?
April 15, 2010
0

found this helpful
If they live far away or otherwise don't get to see you much, perhaps a small photo album full of pics of your family and theirs? Last Christmas I found lots of silly song lyrics I thought my friend would enjoy and put them in an inexpensive binder. I hadn't thought about the format, but recently learned it was perfect. She has very little function in her hands and must have all print material like this.
Hubby and are also in the "when in doubt, buy gift cards" ranks. And with today's gas prices, gas gift cards should be very popular.
Related Content