We moved into a small house. We have too much stuff that I want to keep, and not enough room to store it in. Does anyone have any thrifty ideas for making your own storage, we're skint (lacking funds).
Beck from UK

Answers:
Frugal Storage Ideas?
Check out your local Dollar stores for storage bins; for books, you can buy small open purse-like bins with handles that can store children's books and can be lined on a wall of a bedroom wall. Check out thrift stores for storage bins, baskets, etc.

I usually find storage items at a cheap price; I put the baskets in the dishwasher to sanitize them. I recycle the plastic washing powder tubs with lids to store items in and have even used the paper washing powder containers to store things.

It can be a lot of fun trying to come up with storage ideas; be creative. Have fun. (02/26/2008)

By JOSE
Frugal Storage Ideas?
I know your dilemma. I've moved several times over the past 3 years and started out with 2400 sq. feet of living space and am now down to little to none. I am an avid crafter and as such, had massive amounts of "stuff". I have sold and given away so much, downsizing with each move, but I've managed to keep quite a bit also. I have free standing metal shelves (6' high) on my bedroom walls, bought at Menard's for $10.00 each.
I then took solid sheets (bought at thrift and rummage sales) and put them across the fronts of units. Clutter out of sight. I also get computer paper boxes free from Office Max and label and stack them about 5 high where ever I can. I have some space in the semi-finished basement and use the boxes there also, but put the bottom box in a large plastic bag, just in case of dampness. If some items are large and you have some outside space, get a pallet or two and stack on them and cover with a painters tarp ( Menards for about $5). I wish you luck on the storage nightmare.
Maggie O. in Bloomington, MN (02/26/2008)

By Maggie
Frugal Storage Ideas?
Because I've lived in super-tiny places most of my life, I have quite a few storage ideas:
Raise Your Bed Up: on wood blocks, books or tiles that are taped together with masking tape, this will give you an extra 6 - 8 inches of extra room to store boxes with lids, bins, and other things.

Metal Wire/Grid/Cubes: I'm posting a picture of these so you'll know what I'm talking about. These grids come in many colors and can be configured any way you like. I especially like the way they can easily be broken down to fit into a small box for moving. (I like to use a rubber mallet). They can be hung from a wall, set on a table or stacked directly on the floor. Each cube is 13 inches square. I use these in many places of my home. I use them in the hallway in front of the washer and dryer. (5 cubes high x 3 cubes wide)


I keep dirty clothes on the bottom half of the cubes and clean folded towels and sheets in the top half. I have a curtain that covers the front. In my room, I have a 3 cube high x 3 cube wide stack of them that sits on top of a long table. The grid-cubes are filled with clear plastic shoe boxes and since I'm one of the few women that don't own many shoes, I have the boxes filled with sewing supplies. In my craft/sewing room I use these wire/grid/cubes to hold skeins of yarn and plastic dish pans (from the dollar store) as "drawers" to hold my craft supplies.

In the garage I use the same grids lined with Masonite to hold my power tools and because they are "grids" you can hang tools from "S" hooks on them. I bought some of my grid/cubes at Costco and some from the thrift store. They are also sold online.

Stacking Plastic (vegetable or toy) Bins: These can be stacked all the way to the ceiling as long as you secure them with wire to a stud in your wall so they won't fall over. Mine are filled with all of my heavy tools.

Pegboards: Need I say more? They can be cut to any size and you can hang anything from them, tools, rolls of tape, or craft supplies, etc.

Plastic Bins with Locking Lids: Be sure to get locking lids on your storage bins when you buy them. They may cost a tiny bit more, but will keep moisture and dust out much better.

Add shelves everywhere: There are places you can hang shelves that you would normally not think of hanging them. For example above your washer and dryer there's usually room for one or 2 extra shelves. One more additional shelf can also be added above your closet. Also, right in front of your windows you can hang shelves. I know this sounds like a crazy idea, but it's a great place to store clear or colored glassware and potted plants and herbs, but remember it's moist in front of windows.

Small Stacking Wire Shelves: (like Rubbermaid brand) These wire shelves are made for use inside kitchen cupboards. These small stacking shelves are made for the kitchen are wonderful because you can store twice as many things. Your canned goods can be stacked over and under a shelf and your plates can be on a shelf and your glasses under the wire shelf. You'll get twice the kitchen storage if you use these.

Shelves Above your Computer Area: If you're looking for more storage space, go up. There's more space on your walls than you'd think.

Spring Rods: These handy little rods can be found in the "Curtain" and "Blind" area of your favorite department or Home store. They're wonderful because they need no hardware to hang them. They are adjustable by turning on one side until they "grow" or "shrink" to fit the area where you want to put them. They work like a spring. You can simply hang a curtain, a tablecloth or a nice piece of fabric over a spring-rod to hide the things you've stored on your shelves or on your wire/grid/cubes.

Plastic Dish Pans: When you store cleaning supplies or linens under a cupboard, store them in plastic dish-pans from the Dollar store. That way things don't make a mess and you can simply pull the whole dish-pan "drawer" out to see what's in it.

Under the Stairs, Crawl Spaces and Attics: Sometimes you can find extra storage space under your stairs. Some builders will frame the area in because it's quicker and less expensive to do so, than to build a closet, shelves or drawers. Look around your home for these little nooks.

Corner Nooks and Corner Shelves: Sometimes we have room in the corners of our rooms and hallways. I store my wrapping paper upright in a small plastic trash can ($1 store) in a back corner of my hallway.

Window Seats and Kitchen Booths: Sometimes there's room to build storage in the way of window seats. You can also buy or build a "booth" with storage under the seats in your kitchen or dining area. This will give you a lot of extra storage space, unlike a kitchen table with "regular" chairs.

Extra Bath Tubs: I know it sounds strange, but I've seen people build a make-shift seat (w/fancy pillows) over a bath tub by upholstering over a piece of plywood covered with foam. Some people are fortunate enough to live in a home that has 2 or 3 bathrooms. If you have a tub you never use, why not turn it into storage. You can either build a "couch" with storage under the plywood (inside the "tub" area), or you can simply build a set of shelves over the tub area. Once you draw the shower curtain, you'll never see your storage area.

Back and Front Porches: Yes, it's rainy, wet and cold on my front porch, but I still have a bit of room for a narrow set of shelves (painted to match my home) set behind a piece of painted lattice. On these shelves I store our bottled water and my gardening tools in a bin or basket.

Garages: They have wonderful wall-slat systems for garages these days and the best thing about "wall slats" is they can be used and hung in garages that don't have sheet-rock hung. You just secure the pieces of the "slat-wall system" to several studs. Then it's possible to hang everything from bicycles to hardware from them.

Courtyards: Sometime there's a tiny bit of room to build a small private courtyard outside. I built one in another home I lived in just outside of my bedroom's sliding glass doors and right at the head of my driveway. I made a "self-standing" courtyard with 3 pieces of fencing with a gate that set right on top of the concrete. This lattice "courtyard" prevented the neighbors from looking into my bedroom through my sliding glass doors when the draperies were open. Plus, it also gave me a place to put an outdoor glider to sit on and several potted plants. It was a great place to drink my coffee in the morning. A bit of privacy that only took up an 8 foot square area, right there on my driveway.

Outdoor Storage sheds: What more can I say? We all need some place to store our lawn mower, tools and camping gear. But these sheds are also a great place to store our large plastic bins. Just be sure what you store outside can withstand the moisture and hot and cold of the weather.

Quonset Huts, Tents and Military Surplus: You never know what you'll find, and if you can find something nice looking enough. You just might find yourself an extra bit of storage this way.

Camper Vans, Etc: We have an large older conversion camper-van that looks nice enough on the outside for the neighbors, but we don't drive it much these days due to the high cost of gas. We can't get much money for it because of it's age, so we use it for storage, for tools and the like.
I hope you can use some of these ideas, as they've been very helpful to me living here in my super-tiny home. If you can only buy 2 tools to help you build storage systems and things around the house, buy a drill and a Jig-saw. You can buy both of these for under $50. If you only use them only once in a while (like I do) you don't need the best. (02/26/2008)

By Cyinda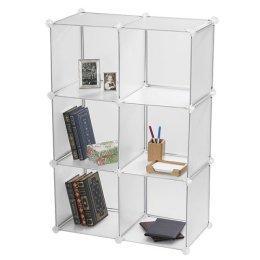 Frugal Storage Ideas?
HANGING OR OVER-THE-DOOR SHOE ORGANIZERS:

I use an over-the-door shoe organizer that has pockets on the inside of my pantry closet door to hold small items like sauce or seasoning packets, pasta packages and other small, light-weight items. My pantry door is narrow so I cut the shoe organizer down to size, folded over the raw edge and straight-stitched it flat. I also undid a few of the pocket seams so that I had some larger pockets, i.e., 2 pockets made into one larger one.

Besides shoes, these over-the-door organizers can be used in your:
Clothes closet (socks/hosiery, hair accessories, scarves, undergarments, etc.)
Bathroom closet (toiletries, washclothes, handtowels)
Coat closet (mittens, gloves, scarves)
Entryway/foyer (keys, outgoing mail, cell phone, beeper)
If you set aside the over-the-door hooks, and instead hang the organizer on a wall, you can use it to store small stuffed animals/dolls or store frequently-used supplies near your desk, sewing machine, craft/hobby area, workbench.

I have seen these hanging shoe organizers available in fabric and plastic/vinyl. I have even seen something similar made of mesh fabric that you hang on your shower curtain rod to hold shampoo bottles or bath toys.

If you have small window that needs covering, you could hang one up as a curtain and put items like silk flowers in the pockets to decorate.

UNDER OR BEHIND THE COUCH/SOFA
flat items like large serving platters that are not used frequently, framed posters or pictures that you want to keep, but not use in your current decor, books not frequently used, but you want to keep
extra blankets and pillows stored in plastic or canvas bags can be tucked behind the sofa/couch if the back is not flush against a wall
BEHIND A BOOKSHELF
Because of the base molding at the bottom of my walls, my bookshelves have half to 1 inch of space behind them. Again you can store flat items here.
UNDER FURNITURE WITH ONLY 2 OR 3 INCHES OF SPACE UNDERNEATH
Telephone books, board games, puzzles
RE-PURPOSE OR DUAL-PURPOSE ITEMS
Display your dishes and platters on the walls of your kitchen/dining room.
Use out-of-season clothing or linens as the stuffing for pillow shams.
Hang quilts or afghans on a wall to display and keep handy for use.
(02/26/2008)
By TJ
Frugal Storage Ideas?
A FEW MORE IDEAS
Display books with nicely illustrated covers as artwork in place of framed pictures or posters.

Hang necklaces and bracelets on a towel bar.
Place gift wrap rolls under/behind the sofa.
Add pockets to fabric covers for dining room chairs and store table linens in the pockets.

Drape folded towels or tablecloths over the backs of dining room chairs and then "cap" them with the fabric chair covers; now your dining room chair is pretty and has a padded back.

Curtain off the base of a pedestal sink with fabric and Velcro (hook'n'loop tape) and hide items like extra toilet paper, toiletries, cleaning supplies "under the sink".

If you have short legs like I do or a large dining table or desk, store items underneath towards the center or back (where your feet cannot reach them).

Store out-of-season clothing/linens in your luggage.
If you have fabric items in plastic bags, squeeze out the air before sealing the bag. This is the concept of the travel version of the "space bags".

Loan out items that a friend or relative could use. Best example: maternity clothes, baby gear.
I ditched my tea kettle and use my coffemaker (without the coffee grounds) to heat water for tea, oatmeal, etc.

If you don't use your oven much, store pots and pans, baking sheets, muffin pans, etc. in there. Just be sure to remove them before you do turn on the oven.
(02/26/2008)
By TJ
Frugal Storage Ideas?
Cut the top off a cardboard box, and cut down to a height that will fit under the bed. Put two holes in one side with a knife/scissors, and make a handle out of rope. This is practically free. Also works under some sofas and chairs. (03/08/2008)

By JanO