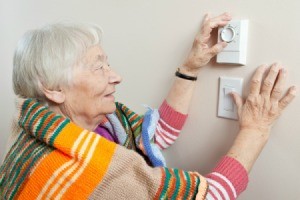 I always have cold air blowing out of my floor registers from my oil heat furnace and it's not even turned on. I turned the heat on today and I get the warm air then followed by the cold. Any ideas? I had a plummer come to fix the same thing last year. Guess it didn't work.
Robin from Burlington, CT
Answers
By Kathy (Guest Post)
October 22, 2008
0

found this helpful
Best Answer
I get the same thing and I asked my neighbor who is a contractor. He said that when your furnace is running (that you can hear it) it is heating up the air that is within the furnace. The air blowing out of vent is that air, so when it starts to get cool it just means that that inside unit is cooling down and you just need to adjust something on the furnace that controls how long it runs after temperature achieved (that you set on thermostat) I am not sure what your valves, dials look like, but maybe you could google your furnace brand and find out, or check ask.com

October 22, 2008
0

found this helpful
Best Answer
You don't need a plumber. You need a hvac person...someone who specializes in Heating, Ventilation and Air Conditioning. I worked for energy weatherization here in Oregon, and most likely, you have a hole or break in the seam of one of your vents under the house or in the crawl space in the attic.
It's like having a leak in your plumbing, but instead of water coming out, cold air is coming in.
Another possibility, is that you have a coil or thermostat damaged or in need of replacement.
If you are elderly and low income, you can often contact your county services listing, and find someone who will check it for free, or at a low cost.
If you know someone who might do it like a relitive or someone in your neighborhood, church, or community center, you can find the leak and fix it. Good Luck!!

Louise B.
Silver Feedback Medal for All Time! 337 Feedbacks
October 23, 2008
0

found this helpful
Best Answer
If air is blowing ALL the time, I think you must have the fan turned on. Many furnaces have a summer fan setting, which means that the fan is running all the time, circulating cooler air from the basement thoughout the house. This is dandy in the summer.
I think you must have this turned on now. You shouldn't have to call a plumber to find that switch. If you don't have such a thing, you may need to get someone in to figure out why the fan runs constantly.
Answer

this Question

My furnace seems to blow cool air instead of warm. Do I need to have a squirrel cage installed?

Answers

December 18, 2016
0

found this helpful
Best Answer
You need to have it serviced! It could also possibly be the fan.

December 22, 2016
0

found this helpful
Best Answer
We need more info....Is this a heat pump?? Electric furnace?? Propane furnace???
We burn propane. When ours does this either we are out of gas, or the pilot light is out. My daughter has an electric heat pump. If hers does this, it is stuck in defrost mode.
Have you checked your thermostat? Did it get bumped to ac or to fan only?
give us some more info.
December 23, 2016
0

found this helpful
Best Answer
It is a gas furnace , it is not on ac , I believe the thermostat if fine .
Answer

this Question