Max was a young, stray cat who showed up in my yard 4 years ago. He was definitely under a year old. Another one of my cats, a female named Cricket who was also rescued as a stray tends to bring cats home with her. Anyway, it was summertime and I made sure to feed him, but assumed he belonged to someone. I have never believed he was feral because he doesn't have a bit of aggression in him, but he is terrified of humans.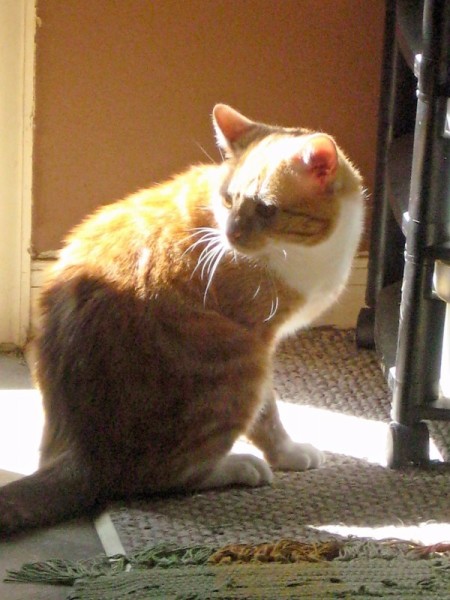 When summer was ending I became concerned that he would freeze to death come winter because he had taken up residence in my rickety, wooden garage. So I stopped feeding him for several days and then put a bowl of tuna inside the house. I have a deck that leads to our main living room. As soon as you walk in the couch is there so I put the bowl past the couch and actually pretended to be asleep and left the screen door open, hoping he was hungry enough to bravely enter. It turned out he was and as soon as he reached the bowl I was able to jump up and close the door behind him.
After this trauma, he took up residence is my front sitting room under a love seat. This has been his home for 4 years now. This was fine for the first couple of years, but two years ago my son moved in and was given primary custody of his two sons who are now 6 and 9 years old. They were raised with cats and other than play in that room, they never do anything to bother him.
When I am home alone he will come into the room with me to look out the back door and every night I split a can of wet food with the three cats and he will actually come into the kitchen meowing his head off for his plate. I have touched him once in four years. He somehow got out of the house and after searching for 10 days I found out he was once again living in the garage. This was summer time and it was very obvious he has become infested with fleas. I have never had to treat him because I treat all the other animals so they don't bring anything in with them. But this time he had fleas and it took three of us to catch him. I needed to give him a Capstar tablet and put Frontline on him. When I picked him up he was so afraid he actually pooped on me. It just about broke my heart.
He always loved my two older dogs who were/are a Maltese Dachshund mix because at night he would come in and rub up against them. But recently one died and the other probably will soon too as they were littermates and 17 years old.
Does anyone have any suggestions how I can get him to trust me? If I enter the room when he is out from under his loveseat he will run the other direction as though I were going to grab him. He isn't neutered for this reason and I have to clean his litter box three times a day because he sprays in there. I have thought about asking the vet to give me something to sedate him before taking him there and bringing him home before he fully wakes from the anesthesia. I am afraid if he realizes I took him there it will set him back years.
I really don't feel he was feral since he has no aggression whatsoever rather I have believed he was abused and thus it resulted in his fear of people. The fact that he will come into a room with me is huge progress. I am a smoker, but do not smoke in the house and sometimes and he will actually come up to the door where I am standing and won't run away. My biggest issue is having him neutered not just because of the spraying but for his health and, god forbid he got out again, we don't need any more kittens that will be homeless. Any suggestions would be greatly appreciated. Thank you for listening.