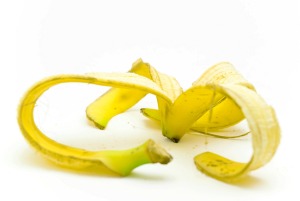 My grandmother always had the most beautiful gardens I had ever seen. Peonies, roses, clematis, you name it she had it; but she never used man made fertilizer. I spent a month with her during a summer vacation. One day after breakfast, she was cutting up banana peels into small pieces and crushing egg shells into tiny pieces.
She then mixed the banana peels and egg shells together. She told me to go put them in the garden and mix them into the dirt. This was all she used as her natural fertilizer for the flowers. I now use them in my gardens and, wow, what a difference. You have to try this. Enjoy the beautiful blooms.
By SPTRAVIS from Halifax, Nova Scotia
Read More

Comments

After reading about banana peels helping roses, I wonder what effect they would have on houseplants - would they have an adverse reaction to the plant? Thanking in advance for any help.
Maggie
Answers
By (Guest Post)
November 4, 2004
0

found this helpful
I pureed a banana peel in 4 cups water and put a bit on several different houseplants. So far, I've had no adverse affects. I did use an organic peel so I can't comment on one that has the fungicides and mold-retardants on it.
Rene
By Rose Elsaeidi (Guest Post)
March 22, 2006
0

found this helpful
I heard that it adds potassium to the leaves when you use it to clean the leaves, I am not sure if this true

March 30, 2007
0

found this helpful
Banana trees in the wild digest the rotted fruit and the potassium helps the trees produce more fruit. If you have a potted banana tree in your home, it is a good idea to feed it in this way every once in a while. I don't know if this applies to all house plants but potassium is contained in plant food.

Keeper
Gold Feedback Medal for All Time! 690 Feedbacks
March 31, 2007
0

found this helpful
banana peels can also polish your green indoor plants,the inside of the peel.Living in FL.we put the peels outside on Staghorns.

January 13, 2009
0

found this helpful
I leave them whole, and just bury them about 6" or so away from the base, an inch or so under the soil line. I've even buried whole bananas that did not get eaten in time.

June 14, 2010
0

found this helpful
Banana peels can be used to shine shoes,dash boards or anything else that requires lanolin.

February 3, 2014
0

found this helpful
I tried to use banana peels chopped up inside of the house for house plants and got fruit flies all over the house. I use them outside in the garden and they are wonderful for the plants and compost.

June 4, 2014
0

found this helpful
I use banana peels to feed my vermicomposter. The worms love it. Someone mentioned they got fruitflies using the peels in the house. I freeze mine first for at least 72 hours.
This kills the eggs on the peel. I freeze everything for my worms. It just breaks down faster.
Answer

this Question

I am getting ready to plant a climbing rose bush. Will banana peels help if I put them under my rose bush before I plant it?
By LeLonnie from Kalispell, MT

Answers

Mary
Bronze Craft Medal for All Time! 52 Crafts
May 30, 2011
0

found this helpful
Hi LeLonnie, I don't know about prior to planting but yes, yes, yes on the banana peels for roses. They are high in nutrients and roses love them. Just pull back some dirt around them, drop a peel or two and put dirt back over. Your neighbors will be asking how you grow such beautiful roses! You can puree them into a liquid form also. Makes great plant food for indoor plants too. In the winter time, you can freeze them until needed. Happy growing to Ya'
Answer

this Question