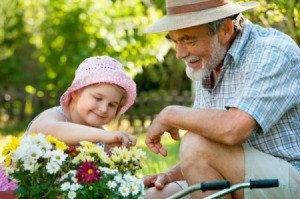 Gardening with my grandad was a lesson in patience. When I was a child my mother worked to put food on the table and shoes on our feet so I spent a lot of my time with my grandparents who lived across the road from us. Grandad had a milk round after retiring from the family bakery because the flour had 'got on his chest'.
Now he struggled on with gout, on his feet all day then soaking his poor swollen feet in basins of Epsom's salts each evening. Looking back I realise he was an absolute hero. I loved him at the time, but now I wish he was still here, mainly because I would like to tell him how great he was. Not only did he work very hard, but he also tolerated my presence around his domain, his huge and fantastic garden. It was all very organised and from the unpromising looking earth he drew pounds of produce which my Nana then used to make tasty dishes.
Any way I thought I would be helpful one day by picking all the heads of the roses to make perfume, and tidy the garden up a bit too. You know that man didn't even flinch; he just gently explained that apart from the ones he cut for the house he would rather the flowers stayed on the rosebushes; 'for everyone to enjoy, see?' Although he had shown no anger at all, realising I had made a big mistake I went off to make a den with Nana's 100% Merino-all -the-way-from-Australia traveling rugs. I chose as the site for this edifice one of three very large and bountiful bramley apple trees that had been planted by my great grandfather.
I don't know how or why I had a knife, I don't know why I decided that gouging away an area of bark about the size of a dinner plate from the tree was a good idea, or even an idea at all. When he found out what I had done Grandad didn't even ask me why I had done it he just said the tree would be 'poorly' if we didn't help it straight away.
He fetched some silver coloured paint from his shed then carefully and lovingly painted over the gaping wound my thoughtlessness had created. In a final flourish he painted a band all the way around the tree and said it was a lucky ring.
For years, every time I visited that garden I checked the progress of the scar. At first it just seemed to scab over, but gradually the edges of the wound drew closer together until unless you knew what had happened, you would have never known what had happened.
Twenty years later, on the day of Grandad's funeral I searched for that wounded place and finding it put my hand over it and remembered the patient and stoical work of someone who probably had better things to do that afternoon than repair my thoughtless handiwork and the way I would always remember him and his love because of it.
As a teacher, I try my best to put this example into my own work, staying as calm and helpful as Grandad Fred always did with me when I went wrong. Oh, the shame when I fail.
By ayesha christmas from Kranj
Do you have a frugal story to share with the ThriftyFun community? Submit your essay here: http://www.thriftyfun.com/post_myfrugallife.ldml
Read More

Comments