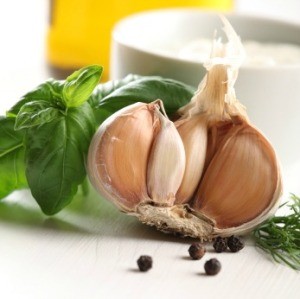 There are two heads (yes, entire heads) of garlic in this dip! When garlic is roasted it becomes sweet and nutty!
Ingredients:
2 heads garlic
1 Tbsp. olive oil
8 oz. Brie cheese
1 (3-oz.) pkg. cream cheese, softened
1/2 tsp. seasoned salt
dash white pepper
Directions:
Preheat oven to 350 degrees F. Cut 1/2 inch off the top of the garlic heads. Remove some of the loose papery skin, leaving the heads intact. Place each on a square of foil, drizzle each with the olive oil, and wrap well. Bake at 350 degrees 50-60 minutes, until the garlic is very soft and begins to brown. Cool until easy to handle. Squeeze each head to remove the soft roasted cloves.
In a food processor, process Brie cheese and cream cheese with the seasoned salt, pepper, and garlic cloves. (You can also cream these ingredients together using the back of a spoon and a lot of energy.) Refrigerate several hours to blend flavors. Serve with crackers, crostini, and sliced French bread.
By Jodi from Aurora, CO