Geranium Photos
Photos
Share on ThriftyFunCheck out these photos. Click at right to share your own photo in this guide.
I have several of these Lavender Blizzard geranium plants and the color is lovely. They are blooming now at this time in December in our mild climate. The Lavender Blizzard plants are in pots and hanging baskets. The hue is incomparable!
I often pick the flowers and bring them in to my wife and put them in a Beleek vase from Ireland with the green shamrock designs. It is a beautiful combination.
By Bob35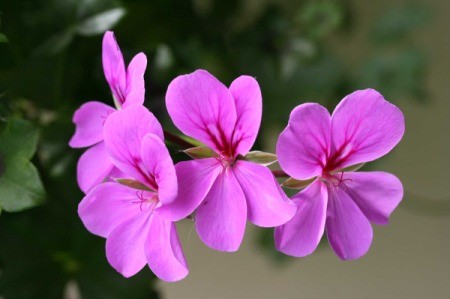 My Regal Imperial is slow to bloom in this cool weather. It is indeed a prolific bloomer when it flowers. The color is attractive, and its multi-flower blooms are very vivid in the garden.
I used my Canon G10 Digital camera for this macro photograph taken in the early evening.
By Bob35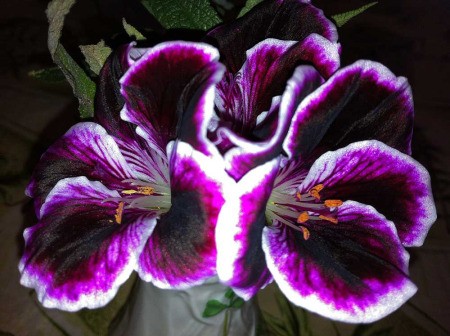 The Arctic Red ivy geranium is one of my favorites. It blooms well and is a deep maroon in color. It appears to glow in direct sun, and is a very beautiful shade. I always have one of these in my geranium garden, as its beauty and calming hue is very appealing.
By Bob35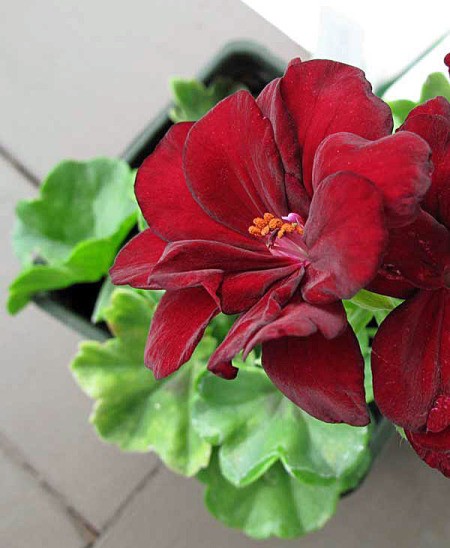 This is a picture of the hanging geranium that my son gave to me for Mother's Day, it gotten lots of sunshine and just kept getting bigger and bigger, sure hope I can winter it over.

By Phyllis from Roseburg, OR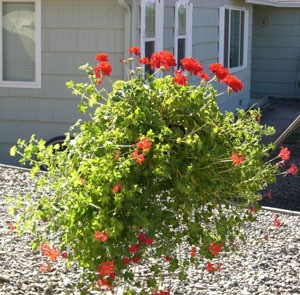 Comments
July 22, 2016
0

found this helpful
Top Comment
One way to winter over geraniums is at the end of the season when they appear to have quit growing, pull them out with the roots intact. Shake the soil off of the roots, tie them together with a string and hang them upside down in your basement with little light. Over the winter they will look very dead. Come spring they will start to show green and even produce small blooms. After all danger of frost has passed, plant and water them, bringing outside. It takes a bit, but all of a sudden they will look just as wonderful as the previous season.
I have kept them for years this way.
This is Picasso, a variety of ivy geranium. I especially like this flower with its multiple blossoms, and it brightens up the garden as it blooms.
The beauty of the flower reminds me of flower paintings that I have seen wherein the artist carefully and wonderfully paints the multiple colors of the blossom. It is among my favorites in my garden.
By Bob35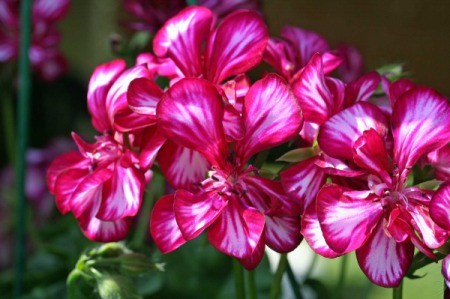 Salmon Queen was one of the very first geraniums that I planted. It has done very well over the years. I have posted photos of them to my flower web page in the past, and it continues to be one of my very favorite of my geraniums. It is quite common and available in nurseries.
By Bobby33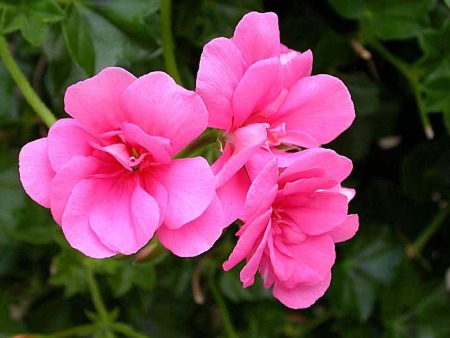 This double red geranium is eye catching with its very red color. I raise geraniums and have for several years. Mostly they are planted in pots on terraces which grace our patio.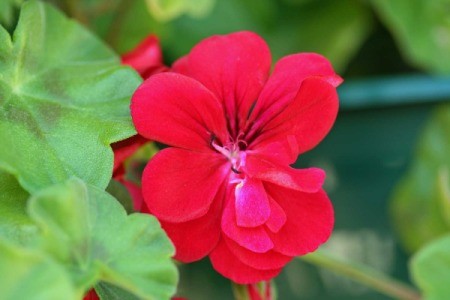 Read More...
I got this as a gift. It has been very happy on my back porch, growing and multiplying its blooms. I'm saving some seeds for next year.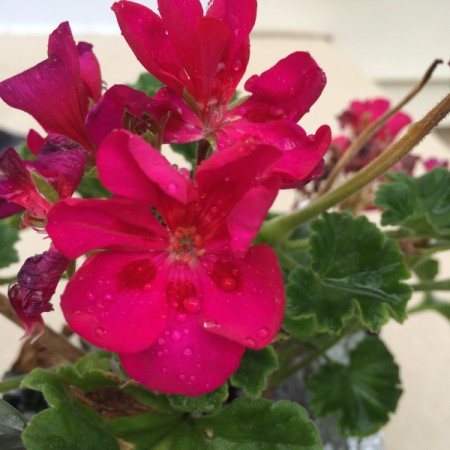 Here is a picture of a single geranium flower and leaf. It reminds me of a "Tussy Mussy"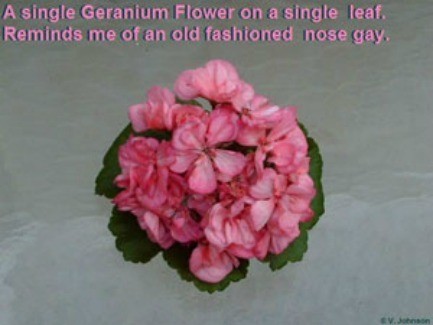 Read More...
Related Content