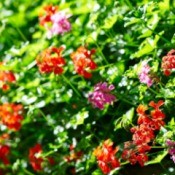 Botanical Name:
Pelargonium
Common names:
Scented Geraniums
Description:
Scented geraniums are hybrid cousins of the common garden geranium. Most plants grow to a height of around 1 to 2 feet, but vary greatly in scent, foliage, flower color and even growing habits, depending on their variety. Like their popular cousins, scented geraniums grow well in pots and containers and make an attractive, aromatic addition to a sunny kitchen windowsill. Rose, lemon, nutmeg, orange, coconut, lime, apple, and peppermint are just some of the more popular scents.
Life Cycle:
tender perennial
Exposure:
full sun or bright light
Cultivation:
Plants can be started from tip cuttings taken in the spring and summer or by purchasing plants from a nursery. If grown in the ground, scented geraniums should be planted in a sunny location with loamy, well-drained soil. Pots should be filled with a loam-based compost. Keep soil evenly moist (not wet or dry) and water from the bottom to avoid wetting leaves.
Potted geraniums should be watered when the top of the soil feels dry. Water until it comes through the drainage holes to flush out leftover salts from fertilizers. Give indoor plants a boost of plant fertilizer every other week. Keep plants shape by pinching back tips and removing spent flowers.
Rose and lemon varieties are best suited for containers. Peppermint does well in the shade with supports that it can climb, and coconut is happy creeping along the ground.
Propagation:
cuttings
Parts Used:
flowers and leaves
Harvesting and Storage:
Long stems of foliage will keep for 2 to 3 weeks.
Medicinal Uses:
none
Culinary Uses
flavored sugar; sorbets; cakes; deserts; decoration
Other Uses:
skin care; potpourri; bouquets; insect repellant