Growing Geraniums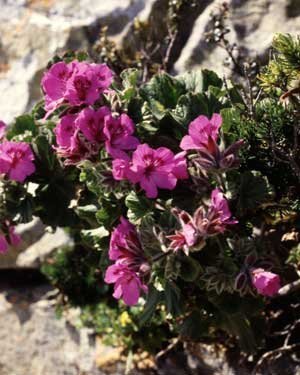 Botanical Name:
Geranium
Life Cycle:
perennials or annuals
Planting Time:
spring or summer
Height:
6" up to 3' to 4'
Exposure:
full sun or partial shade
Soil:
rich, evenly moist, well-drained soil
Hardiness:
depends on variety
Bloom Time:
all season
Flower:
variety of colors including white, red, pink, salmon, purple, magenta and violet; single or double blossoms
Foliage:
green or concentric markings on leaves depending on variety
Propagation:
seeds (5 months to flower) or cuttings
Suggested Use:
pots, beds, borders, window boxes and hanging baskets
Growing Hints:
The best way to start geraniums is by purchasing plants, because seeds take around 5 months to flower. After acquiring one plant, take 4-inch cuttings and keep them as house plants over winter until transplanting them in the spring after danger of frost has passed. In non-tropical zones, mature plants can be potted and kept indoors over winter. Place them in a cool room (50º to 55º F) with bright light and barely moist soil. Cut stems back by 1/2 to 2/3 in the spring to encourage bushy new growth.
Interesting Facts:
Geraniums are native to South Africa. Instead of offering up dazzling flowers, some geranium varieties produce a scent: rose, apple, orange, and peppermint, just to name a few. Look for these varieties next to the herbs at nurseries.
More Solutions
Share on ThriftyFunThis page contains the following solutions. Have something to add? Please share your solution!
Every year, I so admired my Aunt's geraniums that bloomed until October in Michigan. She told me that she uses an empty gallon container. She fills the bottom with ammonia then fills to the top with water.
Read More...
11 Questions
Ask a QuestionHere are the questions asked by community members. Read on to see the answers provided by the ThriftyFun community or ask a new question.
My father has carried this geranium over the winters for years. It takes a long time to flower and produces geranium flowers, but with mini rose type ends. Anyone ever seen this before?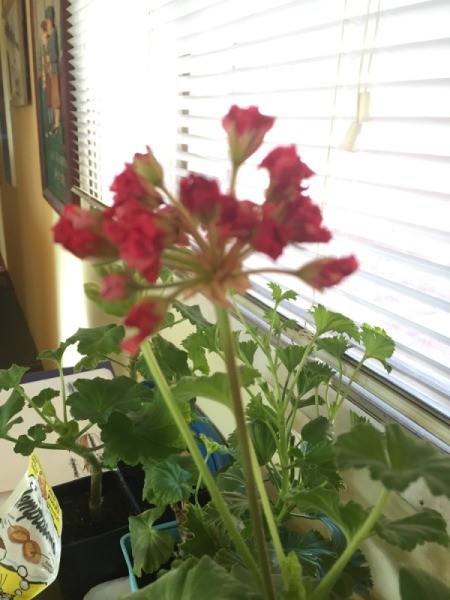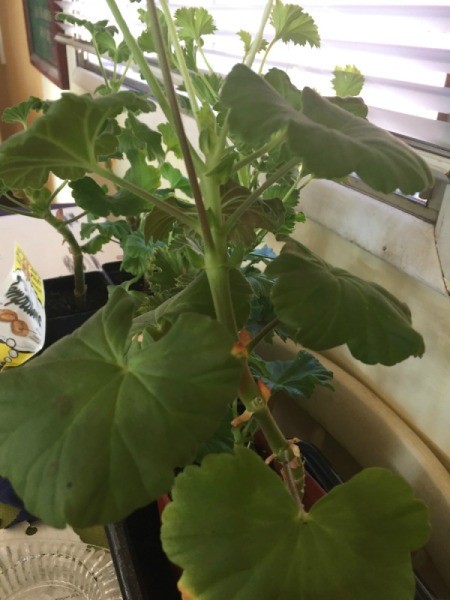 Answers
October 24, 2016
0

found this helpful
Best Answer
Hello ! it is a Pelargonium (= geranium) Apple Blossom Rosebud
The flowers can be pink or white and pink or red like yours which is beautiful.
Answer

this Question
I am having a terrible time growing geraniums. My leaves start wilting and turn yellow. Am I watering too much or not enough? How much should I fertilize?
Hardiness Zone: 7b
Peg from Springboro, OH
Answers
March 11, 2007
0

found this helpful
Complex issue. Might just be sick plant from nursery. Might be infected ground from last sick plant. Or ground is more like cement than dirt, and water never makes to the roots. Or too porus soil, and water doesn't stick around long enough for roots to take up water. In soil near by put same amout of water to it as plant, wait 30 minutes and dig up area near plant and see it dirt absorbed water.
March 13, 2007
0

found this helpful
i don't know why - but my mom always put chicken blood in her geraniums & she kept them thru winter in a spare room
By (Guest Post)
March 13, 2007
0

found this helpful
I lost a couple of geranium plants last year by over-watering them. Now I let the soil go 'almost dry'; then give them a good watering. These new plants are getting quite large and full of blooms.
Rosalie
March 15, 2007
0

found this helpful
I am having the same problem with two geraniums I received from a friend. I have had a previous geranium die at my hands! Everyone knows I do better with lawyers and weeds than with plants and ministers of religion--- Any help will be appreciated.
Answer

this Question
Which kind or species, I guess, of geranium(s) have healing qualities for vein issues and depression?
Answers
November 4, 2017
0

found this helpful
Yes it is true that Geraniums have several medicinal qualities that range from being a topical astringent to restore balance in skin and hair to being a soothing agent in a tea or a bath. Its been said to help with things such as cuts or scrapes, eczema, insomnia and varicose veins and even insect repellent for people and animals. I dont believe it matters about the species as it is an oil produced behind the flower that is extracted to find out more I would encourage you to check out the website www.geranium-flowers.com/
November 5, 2017
0

found this helpful
It is a good astringent and can be applied to the face.
Answer

this Question
Do you need to cut your geraniums back in the spring, or just leave them alone? This is the first year I have tried to regrow the same pot.
By Bonnie
Answers
March 19, 2012
0

found this helpful
If you live where the temps get below freezing in the winter, you can bring them inside and do either of these:
(1) Bring the pot inside and put in a window with good light and continue to water them and they will bloom all winter; you can cut them back to 4" but I don't.
(2) You can cut them down to about 3-4" and leave them in a pot and put the pot inside where it is above freezing, do not water. they sort of dry out but will revive when it gets warm and will start to leaf out and then you start watering them.
(3) You can remove them from the soil, cut them to about 4" and put them in a paper bag and store in above freezing temps until spring when they will start to leaf out, and you then repot them and continue to care for them as usual.
Answer

this Question
I have 5 planter boxes in a row that contain petunias and geraniums. They sit within 5 feet of each other surrounding my pool, getting the same water, fertilizer, and sun. The boxes are starting to rust. This year I gave them new soil, (Miracle Grow Moisture Control). Three of the boxes are doing fabulously, but 2 are spindly, not maturing, and the flowers are smaller in size than when I bought them. I keep looking for bugs, something to key me in as to what is wrong. Any thoughts?
By Nancy
Answers
July 6, 2011
0

found this helpful
Hi Nancy! Since three of the five are doing nicely, I'm going to assume that you aren't overwatering and that you've already checked that those two containers have adequate drainage, common causes of the 'uglies' on geraniums and petunias
The two containers that aren't doing well may be getting dosed with pool water-are they in the 'splash zone'? The containers may be getting pool water dripped into them, too, if they are placed in an area where swimmer congregate to dry off, queue for the diving board, etc. Or the containers could be getting something dripped into them from an overhanging tree, roof, or other landscape/hardscape feature.
If you can't find the explanation for the failure to thrive in those two containers from the above, the only other thing I can think of is that something in the container is causing the plants to suffer-even if you bought the containers at the same time and all five are identical, it's possible that those two containers came from a different manufacturing lot (or even manufacturer), and something in the coating or materials is not right for plants.
OR it could be the plants themselves-even though petunias and geraniums are considered perennials in most areas, they do have a 'shelf life'. Are the plants in those two containers older than the others? They may simply be running down to the end of their flowering lives.
Answer

this Question
Can I put pots of geraniums under my spruce trees?
By D H

Answer

this Question
This is a page about growing geraniums from cuttings. Geraniums are one of the easiest plants to start from cuttings. If you live in a colder area you can take cuttings to overwinter and have a good start on your spring garden.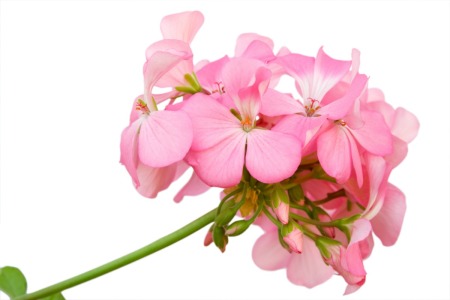 This is a page about geranium photos. Geraniums can be upright or vining and come in many colors from white through pinks and reds to deep purples.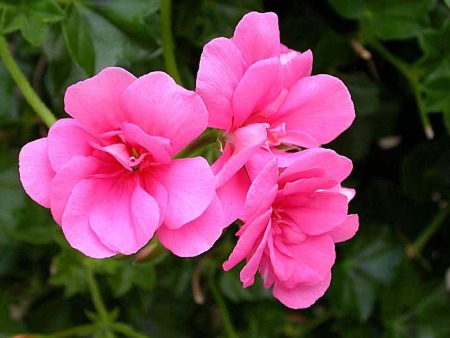 This is a page about growing scented geranium. These flowers are members of the pelargonium genus which also includes the well known garden geranium. They are prized not for their flowers, but for the delicious aromas of their foliage, including: lemon, mint, rose, and cinnamon to name a few.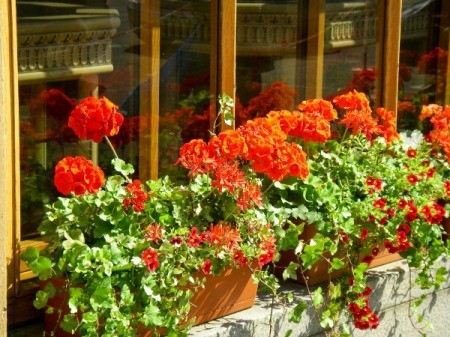 Categories
Pages
More
Categories
Published by ThriftyFun.
© 1997-2020 by Cumuli, Inc. All Rights Reserved.
https://www.thriftyfun.com/tf/Gardening/Flowers/Growing-Geraniums.html