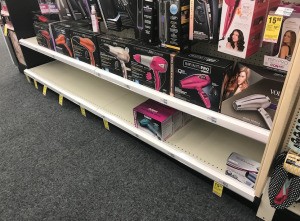 If an item is out of stock, don't forget to get a raincheck.
I went to CVS today and as you can see the entire sale items are wiped out. The deal is if you purchase a select Conair Hair Styling Product for $15, you get $10 Extra Bucks (essentially a coupon to shop back at CVS).
I went to the cashier and they wrote me a rain check (product number, price, promotion, etc) and when the item is back in stock - I will be able to redeem my raincheck and still get the item at the sale price and promotion.
Note: Some stores may not give out rain checks for select items. Every store varies.