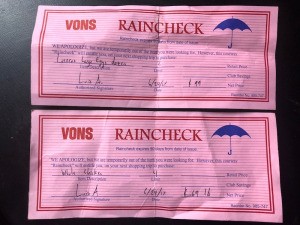 Finding big sale items in weekly store ads is great, until you get to the store and notice they've ran out of stock. It can be frustrating, especially because you've made an effort to make it out to the store only to find there was nothing there for you.
When this happens, go to the customer service area of the store and ask them for a rain check for your items. This ensures that you get those low sale prices locked in the next time they do have the items for you. They will usually give you a huge grace period to come back to purchase them, so you need not worry they will not be available. This also works if you wanted to buy multiple quantities and they did not have all you wanted in stock (as long as you stay under advertised limit).
To expedite this service, it's good to have a photo of the sale price from the store (I use my mobile phone cam), have a digital ad open for the sale item on my store app on my phone, or have a clipping from the weekly ad.
If you encounter an issue where the store has run out of stock and they will not offer you rain checks or a similar alternative, you can contact the Federal Trade Commission to complain: https://www.ftc.gov/contact