October 22, 2013
0

found this helpful
I have personally found that using small dishes filled with Apple Cider Vinegar with a small amount of Dawn dish detergent placed around the sink attracts the fruit flys and they drown in the solution.
October 22, 2013
0

found this helpful
Take a plastic cup and fill it about 3" deep with apple cider vinegar. Drop in 2 drops of dish washing liquid. This breaks up the surface adhesion of the water. They dive in for the fruit and drown.
Here's the proof.
Sometimes I put in cut up apples just to make the temptation greater.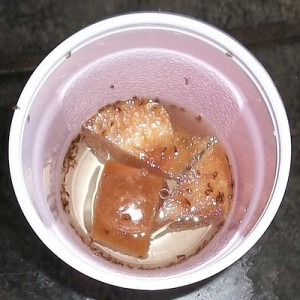 October 23, 2013
0

found this helpful
I tried the wine thing - all I got was drunk fruit flies. Personally, I think the best thing is to figure out where they are living (in your recycle cans, in fruit, in your compost bucket?), and just get rid of that lovely home.
Next thing you know, they are dead and gone. They have a relatively short life span and don't bite, so I find that prevention is the best and easiest method of dealing with them.
October 24, 2013
0

found this helpful
You can also use a cup or bottle, put something yummy in it like honey or pieces of fruit (they especially like lemon) (they also like stuff that is rotten, like regular flies) and put Saran Wrap over the top, secure by taping or rubber band to the sides of cup, punch holes with a pencil in the Saran wrap and they will fly in and not be able to figure out how to get out (for the most part, a few might). You can wait till they die or humanely let them out, outside.
Also, they gravitate towards standing water and food left out. So don't leave any dirty dishes in the sink or dish water in the sink (for long periods). They like to lay eggs in odd places like the inside of your garbage disposal (or the underside of the lid), so keep that lid clean and the lid on it at all times you aren't using the sink. Inspect bagged fruit and potatoes before you bring in the house, that's how they usually sneak in. If you think you have some, just fully open the bag and leave outside a while and then bring the bag in later.