October 22, 2015
1

found this helpful
Best Answer
You mentioned you had the apple cider vinegar but you didn't mention if you dropped the dish washing liquid in. This is essential to break the surface adhesion. If not, they dive in, fuel up and keep on. If you don't see any dead ones in the bottom, you are missing this key ingredient. They should look like this in a day or two.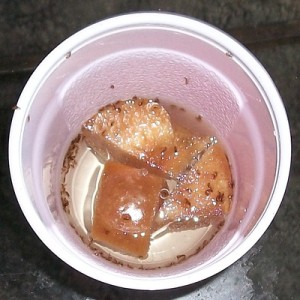 October 23, 2015
1

found this helpful
Best Answer
Be sure to put a capful of Clorox in your drains at night. They often breed in the wet areas.

Louise B.
Silver Feedback Medal for All Time! 337 Feedbacks
October 23, 2015
1

found this helpful
Best Answer
If these gnats are fruit flies, you should do a search to see if there is some place that they are reproducing. If you can get rid of that, it will help immensely. (I have NEVER had any luck with those apple cider vinegar or red wine traps. All I ever got was drunken flies. With or without the dish soap.) I would suggest looking at your garbage cans, at recycle bins (fruit flies love the dregs in pop cans and juice boxes), compost pails, spills that you might have overlooked -- like juice, house plants that have been outside, new house plants, rotten forgotten lunches, dirty dishes, etc.
stashed about the house, and sometimes, sewage problems. I would start with your daughter's closet if that seems to be the worse place. Usually there is nothing in a closet to attract flies. If there is nothing, maybe it is some sort of sewage or plumbing problem.

DCA
Bronze Answer Medal for All Time! 220 Answers
October 21, 2015
0

found this helpful
There are several types of gnats in the US and they develop and live in specific areas-fungus gnats in soil (very wet indoor plant pots), eye gnats (wet sandy soil) and buffalo gnats (similar to eye gnats).

November 3, 2015
0

found this helpful
So I finally got rid of the gnats! Woohoo!! So I continued with the apple cider vinegar and dawn soup but then I got those nasty sticky thing you hang. I hung those sticky strips right above the apple cider cup like almost either touching the cup or down inside the cup right above the liquid.
I did that for two to three days and finally all the gnats are gone and haven't returned!!

likekinds
Gold Post Medal for All Time! 523 Posts
December 10, 2015
0

found this helpful
Since I first read your post, I had a serious problem with gnats. I hung sticky strips, just as you did, (Dollar Tree, 3 for a dollar). They are catching gnats like crazy! I didn't even hang them over anything, just hung them. Thanks for the tip.
Doug

likekinds
Gold Post Medal for All Time! 523 Posts
November 7, 2015
0

found this helpful
Gnats are not fruit flies. They are two different animals. Gnats are not attracted to vinegar. Most types are attracted to human secretions, particularly mucin. But, you didn't say the flies flew about your face. I think that rules out gnats.
Fruit flies are attracted to fruit and to a much lesser degree, apple cider vinegar. In theory, placing bits of fruit in a cup partly filled with water laced with a drop of detergent seems a good idea. many go into the water and don't come out.
As seen in Sandi's picture, many 'guards' never will enter the water. They will hang around and procreate, giving you more than you started with.
I think you did the very best thing by hanging the sticky strips over the vinegar. You probably would have gotten even faster results had you placed the strips near an over ripe banana.

October 18, 2016
0

found this helpful
I have had a terrible time with gnats as well.
I found a great way to catch and kill them.
A lot of the methods on here do work well but for me, this worked the best and very fast..
Get a white cup (they seem to like white) but any cup will do.
Pour in the vinegar and add beer to it. (the beer attracts them like crazy) No certain measurements.
Cover the top of the cup with plastic wrap and poke small holes in it.
Secure the plastic wrap around the cup with a rubber band.
Place these cups beside of sinks, toilets mainly..
You will be amazed with how many you catch/kill as well as how fast.