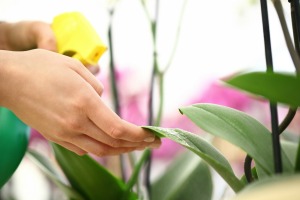 Question:
I recently purchased four beautiful Massangeana Cane plants from Lowe's and some good potting soil. I potted my plants in nice planters and within a week there are millions of gnats crawling out of the soil and flying everywhere. Is there anything I can do to get rid of these pests?
Madi from Oceanside, CA
Answer:
Almost everyone who grows houseplants has experienced these little black gnats. They are called fungus gnats. They inhabit the fungus and decaying plant material found at the base of houseplants. The fungus gnat's lifespan is as follows:
Adults live about 7 to 10 days and deposit eggs on or in moist soil. The females lay from 100 to 300 eggs in batches of 2 to 30 each in soil containing decaying organic matter. The eggs hatch in 4 to 6 days and the larvae feed for 12 to 14 days. The pupal stage is about 5 to 6 days before adults emerge. Repeat.
The adult gnats are an annoyance, but they won't hurt your plants. The larvae, however, can damage the feeder roots and root hair causing a general loss of vigor to some plants.
The best way to prevent fungus gnats is to use a sterile potting soil mix when re-potting (one that is free of bark chips) and to make sure your pots have good drainage. These guys need a moist environment to feed and continue breeding. So if possible, it's a good idea to let the surface of the soil dry out as much as you can (without injuring the plants) between watering. This works well to kill the larvae.
Here are some other things to try:
Be sure to practice good sanitation by removing any dead plant material and debris from the base of your new plants.
Replace the top few inches of soil with a sterilized potting mix.
Place yellow sticky traps near your plants to monitor the population and nab flying adults.
Use a fine peat moss on top of your potting soil to deter the gnats.
Place 1/2 inch slices of raw potato on the surface of the soil and discard (along with the larvae) after 2 days. Repeat until larvae are gone.
Place red cooking wine or fruit juice in glass and leave it out by your plants. Adults will dive in and drown.
Ellen
More Answers
Lemon Scented Spray
Use any type of lemon scented spray. I use lemon scented ammonia. Wipe down the area with the lemon scented ammonia or spray the area. You will notice there are very little or no gnats at all instantly.
By tonya
Soap and Water
I just mix up some soap water in a spray bottle to get rid of the gnats.
By Joyce