June 20, 2011
0

found this helpful
Best Answer
Try spraying with mouthwash. Place into spray bottle and put fine mist on them. I use Listerine on mosquitoes and flies on the carport and it works. Why not gnats?
June 21, 2011
0

found this helpful
Best Answer
Get some cups/styrofoam or plastic, and fill 2/3 full with apple cider vinegar. Drop in 2-4 drops of dishwashing liguid. This breaks the surface adhesion of the liquid.
The knats will dive for the vinegar, and drown. Sure Cure!
www.thriftyfun.com/tf91727863.tip.html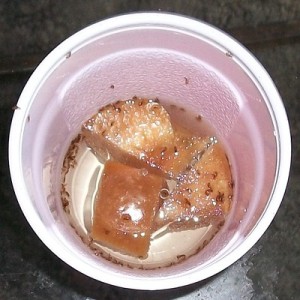 June 21, 2011
0

found this helpful
Put some apple cider vinegar in a pint jar with a lid, poke a few holes in the lid and the gnats will go right in and cannot get out! Change every few days!
June 21, 2011
0

found this helpful
Poor but Proud hit the nail on the head. I put hedgeapples in last fall because I heard they run spiders off. But no one admitted they draw gnats, big time!
I did research, came across the apple cider vinegar but it called for a dab of oil. It took about a week, I changed the vinegar/oil ever few days, but they got rid of them. Never again will I try the hedgeapples.
June 7, 2013
0

found this helpful
I just moved into an apartment. I've found a lot of dirty little overlooked areas, like caked on food on the trim of dishwasher, stove, floor corners. The gnats were coming from the pipe that is a bit larger than the drain hose from the washer stuck inside of it.
Solution...rubberbands (for now), take the hose out of drain pipe, slip the rubberbands onto the pipe &/or drain, I used several. Stick the hose back into the pipe, and reattach the little security band that keeps it in there.
Wrap a piece of scrap fabric, or old towel all around and overlapping where hose and pipe meet.
Slip those rubberbands over each one, some on the pipe and some on the hose. Prevent them from flying out of the drain. It really stinks. I have run several loads of bleach rags down already, from all the gunk I cleaned up. I will have maintenance come and deal with the odor.
Best of luck with this problem!
October 10, 2015
1

found this helpful
I have tried following methods and these work like a charm against gnats:
1. We have used Bleach with luke warm water it works superbly against fungus and other biting gnats.
2. We have also used a manning trap against them and it works.
3. Gnats hate the smell of Cloves, Citrus Fruits, Lavender so you could use them for keeping gnats away.
I have come across a detailed resource that enlists some other methods: www.getridoffliesguide.com/.../