I have a mystery mouse in my house, I see the poop pellets around, see teeth marks in cracker boxes, etc., but I haven't seen the mouse. How do I get rid of a mouse humanely that I can't find? I have four young children and don't want sharp traps or poison laying around nor am I keen about finding the critter, I just want it back outside where it belongs!
By Christina F. from Fonthill, Ontario, Canada
Answers
August 14, 2012
0

found this helpful
They have these little traps which are little cages and they don't kill the mouse. They are called "Have a Heart" (or something to that effect). They are not low cost however, (compared to a trap) but they can kept and used indefinitely.
I wish I could name you a place to buy them, Home Depot and such may carry them, Walmart, Ace Hardware, maybe. Look on the internet for a source if you are interested.
August 16, 2012
0

found this helpful
I found a way that works great. Take a few cotton balls and put at least 10 to soaking the balls in peppermint & spearmint oils. I would recommend using gloves because these oils are strong and don't place them up against cardboard containers. I have been doing it for 6 months and no mice.. we used to have a lot especially since the drought.
August 16, 2012
0

found this helpful
I suggest a cat. Who, of course, would eat the mouse. You may have more than one mouse. But maybe that's not your idea of humane.
August 16, 2012
0

found this helpful
On an empty toilet paper roll, at one end, place a good dab of peanut butter on a small cracker or piece of bread. PB oil then does not soak into cardboard. Place filled end half off a countertop.
Balance so it is easy to tip when mouse goes into tp roll. Put empty trash can below to catch the tp roll that is baited. The fall will not hurt the mouse. You may check if mouse is a nursing mama. If so, she will return unless you take her large distance away.
August 16, 2012
0

found this helpful
I had a couple of mice that got into my house so I bought some rat sticky boards, baited them up and then went on vacation for ten days. When I got back I had a cast of thousands. They had eaten their way through all the pasta, grains and completely took over my pantry. I fought them for a week but when I opened my oven door to see one BIG one the size of a rat that did it. I called an exterminator. It seemed I had several openings they were coming in through and had the man not plugged up the holes I never would have gotten rid of them.
So if you really want to get rid of them and not have to be bothered ever again call an exterminator - and don't sign up with a yearly contract that's baloney they can fix it in one visit & leave poison where the kids & pets can't get at them. Yes mice are cute & fuzzy but they are disease carrying rodents that once - if they get a foot hold in your house they will own it!
August 16, 2012
0

found this helpful
There is a trap I have found at Walmat. It is called Tomcat mouse trap it is about 8" long made of black plastic one side has a trip door that you set open. The other side has a pull off doorwher you put dab of peanut butter. The muse goes in the opened end and when it heads for the eanut butter the trap is trippd and rthe mouse is caught inside. Then you can take it out to a park or somewhere. Make sure you keep an eye on it though. You doon ant to open it up to find a dead mouse or a skelleton!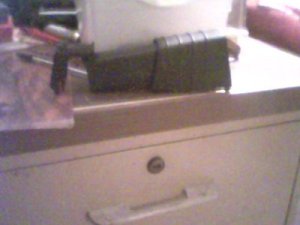 August 16, 2012
0

found this helpful
I've had several over the years, never more than one at a time. I take a big bucket or smooth trash can, put peanut butter spread on cardboard or bread in the bottom .
Then put a board so that they can climb up, and a couple of game boards on top with a small opening in the middle. Place it near the wall where you've seen evidence of the mouse. This has worked every time for me.
August 17, 2012
0

found this helpful
I'm sorry, but you will have to use a snap trap. You cannot put a mouse outside, it will return, and multiply. They carry diseases, how would you feel if one if your children became ill because you didn't nip the problem in the bud?
August 18, 2012
0

found this helpful
I use the little plastic catch and release traps myself; but, they are right you cannot just take them outside and let them go - they already know how to get back in.
When I catch one in my house, I take him for a quick "drive to the country" and release him at least 1 mile from any house. That way he is truly "returned to the wild" and will not get trapped/killed trying to get into someone else's house.
August 18, 2012
0

found this helpful
I can't harm a squirrel, rabbit, ground hog or crow, even though all of them are a real nuisance sometimes but when it comes to mice, I hate it when he gets the cheese out of the trap and I don't get him. Kind of like fishing and the fish gets all your bait and does not bite. Call me ruthless but I get a thrill when I find a mouse in my mouse trap.
August 20, 2012
0

found this helpful
I saw commercials for something like "Riddex" (check it online), you plug it in and the waves or whatever keep mice away, it's the only thing that has ever worked.
Read More Answers
I have a self storage unit in a different state where I am living presently and need to keep out rats and mice. My sister saw droppings in the unit when she went today. I have this storage unit long term, and have everything I own inside it. I do not want my possessions destroyed. So far I have seen information about the poisons humans can get from pesticides, and what is in the moth crystals, and flakes and it does not sound like would be great to use either of those. Also, I do not have anyone that can go to my storage unit on a regular basis to use the traps. I am not sure what to do. Please help with any serious suggestions. Thanks.
Answers
November 13, 2013
0

found this helpful
We get mice in our garage in the winter. Our garage is really like a pole barn that sits at the back of our property. We buy Ramik bars from a tractor & feed store. Agway sells them too. We put them in the garage and in our basement. You break up the bars and put them along the walls where you think they might be getting in. The vermin eat the bars and then they die. They dehydrate so you can't smell them like you would if they ate D-Con. A farmer told us about this. He uses them in his barn to keep the mice and rats away. Since we started using the bars, we only find flat-as-a-pancake dead mice now! If you can't find the Ramik bars, there's another one put out by a company called TomCat. These are poisonous to your pets.
Answer

this Question

...
How do we work on getting rid of mice in our house? We have tried all the glue type things, and some regular mouse traps. We have dogs and one cat, so we don't want them eating a mouse that might poison them. We are very concerned, because we don't want house damage. We live next to a wooded area, because we live in the country.
By Susan P.
Answers
October 27, 2011
0

found this helpful
I have had this problem years ago after so much more rain then normal. I hate mice so I needed help. My daughter years later used the same thing I did however now its very easy to buy at your local Home Depot type stores. It plugs into the outlet, send out sound waves that the mice literally can't stand.
I had to order mine direct from the company. These sound wave mice controllers get rid of every one, if you have only 1 story home only need one. It will amaze you how fast they leave. It doesn't kill them. They can't be around the sound waves (kind of like a dog whistle, in way you can't hear it) only what you don't want hears it. I owned a dog back then, she couldn't hear it, so no worries on your pets. Spend the money it's so worth it.
October 27, 2011
0

found this helpful
I read in Mother Earth News years ago that rats and mice have a one way digestive system. So, they can't burp. They said put down a lid of soda, any kind that is sweet, and they will have their fill. When the deed is done, there is no muss or fuss. They generally die close to their other critters so there isn't much to clean up.
If this helps, it's no danger to the other critters, esp' if you put it up higher than they can reach or under cupboards they can't enter.
I hope this helps.
PBP
October 28, 2011
0

found this helpful
Scatter moth balls around entrances as garage doors, openings under the house and such. I have used this in our garage for years and even in other buildings.
November 25, 2011
0

found this helpful
You can buy humane traps that don't kill; you then relocate the mice to a field or elsewhere far from your home. As an aside, mothballs are not pet-friendly.
Read More Answers