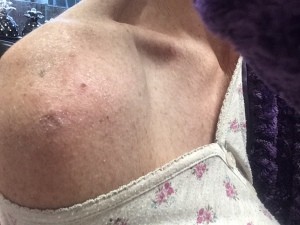 A year ago I took tenancy of a small, 1940s, recently modernised bungalow out in the countryside and have been plagued with insects and mice ever since. It's built on a small hill and my huge back garden which is nearly all lawn, slopes quite steeply downwards from the rooms at the rear ie., kitchen, bathroom, and one of the bedrooms. When I moved in, the front and back gardens were overgrown jungles and had no fencing so I immediately had the land cleared and enclosed it all round with new 6ft fence panels and concrete posts. The bungalow is very small, but I took it because the integral garage is massive and most people who live here have converted theirs into extra living space.
It was freezing cold when I moved in and apart from one little mouse I found in the kitchen, a few slugs and snails in the garage and a couple of birds nests in the garage roof, all was fine to begin with. Then in March, as the weather began to warm slightly and temperatures rose, the nightmare began. It started with an excessive amount of flies in the back garden, kitchen, and in the garage. The garage is built onto the kitchen and there's a door which separates the two spaces for access to the back garden. I could find no reason for these flies and it was and still is a mystery. As summer arrived, more and more the flies descended. They were literally pinging off the walls and ceilings and off of our heads! Despite multiple fly traps and loads of different types of flying insect repellents they just kept coming; they were in all the cupboards and drawers, the cooker and fridge, on the beds, under tables, on the carpets and even in our bath water! At the same time as the flies we were overrun with ants and earwigs. They crawled up our arms, across our faces, got into our ears and hair. Between the flies and the ants my 8 year old daughter became traumatised and some days she refused to get off the school bus at 4pm! It was unbearable. Even though the ants and earwigs disappeared as quickly as they arrived, the flies didn't leave so fast. Eventually they began to die off in the November time, but there are still some flying about right now, in December.
After the fly invasion there was no respite, as they have been replaced with mice and cockroaches! The mice are causing me so much stress. I'm a mess! I think they are coming in from the front and back gardens via the garage. The garage has a wooden back door with steps leading straight down into the garden and an internal side door with steps leading up into the kitchen. There is no other way to reach the back garden other than through the kitchen via the garage or directly via the electric garage door at the front.
The bungalow is cute, but very, very small with no storage or extra space and so the garage is invaluable. It's huge, has PowerPoints and lighting, built in shelving and units and it also houses two big store rooms which used to be the old toilet and washroom back in the days.
However the garage, whilst indispensable, is an absolute monstrosity! It's used only to house the tumble dryer, a fall back freezer, and gardening equipment, and overspill boxes from when I moved in a year ago, which still haven't been unpacked. It's cold, damp, and smelly in the winter and stifling hot and always full of flies and insects in the summer!?! Its structure is a mismatch of concrete, crumbling bricks, rotten bits of wood, chipboard, old offcuts of MDF, cardboard, and any number of porous materials the previous tenant used to fill in gaps in the ceiling and and rafters.
When it rains, the roof doesn't actually leak, but water comes running down one wall and comes in from under the garage door and around the frame. The floor is concrete and usually wet in places. The double glazed door from the kitchen gets opened and shut constantly all day, as our two dogs must go outside every couple of hours. I'm in and out for the freezer and tumble dryer and my daughter stores her outdoor boots, bicycle, trampoline, etc. in there along with various other things.
We have reached a crisis point with the mice. They have infested our bedroom and kitchen and are running riot, peeing and pooping in all our laundry, linen, towels, and even the cooker! The kitchen surfaces are always splattered with urine and all our windows have a layer if brown dust and grease on them.
Even our skin has this terrible brown powdery dust and grease, especially our neck, hair, forehead, scalp, and ears. Our fingernails turn yellow and brown when we touch our hair!
I hear mice in the kitchen, bedroom, behind the bath panels, in the sofa cushions, and behind the fridge, in the cooker, in the drain pipes, in the garage, etc. I've seen mice running across the garage floor. I smell their rancid odour so many times I feel likes it's coming from out of me! It stinks in the house and I'm horrified.
A few weeks ago we both had a serious body lice infestation and were covered in so many ticks that we had to go into hospital to them removed. They came from mice and rats we have been told. We also tested positive for Lyme disease. The hospital contacted our landlord, but he is accepting no responsibility whatsoever and says that pest control is all down to the tenant and that the property did not have a pest problem before we moved in with our dogs, ie. the ticks and lice came from our dogs! This is so untrue!
Our dogs actually got contact dermatitis from the mice urine and droppings and infections from swarms of ticks, despite only ever having lead walks around the village. They never once had a flea, louse, or tick on them until we moved here. But I'm in the poop as I can not prove a darn thing. I've had pest control come I three times, but strangely enough, they can never find any live mice. Only a few droppings and old patches of urine. They appear to only come in briefly and don't live inside our home. So why so much damage and why no evidence of them being here?
Right now I have the smell of them radiating from the tumble dryer every time I open the door, I hear the scratching and then the smell just bursts out; it stinks. The dogs are nervous 24/7, constantly on guard, barking and watching different parts of the bungalow. They never settle and they follow me everywhere.
I'm covered in lumps and spots and bites and scabs from constantly scratching at my relentlessly itching skin. I feel grubby and dirty all the time, my skin is greasy and my face is covered in brown smudges and orangey brown powder is stuck in my hairline. My scalp is jumping and my hair feels like it has a life if its own. When I scratch an itchy bump it becomes almost a scratching frenzy to get relief. I don't know if this is due to the biting and burrowing parasites and insects brought in on the mice or if I'm actually having an allergic reaction to the mice? How can I get rid if these mice, if pest control say they aren't even here? They must be or why are our skin and immune systems and our home under attack?