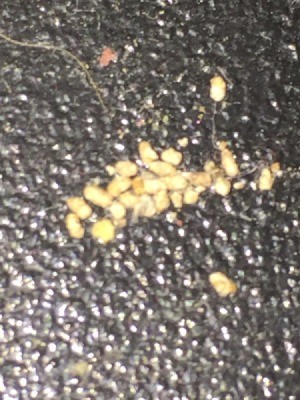 I recently moved to a older farm house out in the country. We moved in May 5th of this year. We were there a week and a half before ever actually getting bitten by these things. They are small black bugs that are needle point in size. I have had pest control come out several times and they make me feel that something is wrong with me and that they can't ever find anything.
Pest control has even told me that I should seek medical attention and that I may have scabies or body lice, etc. I have been to the doctor twice and they said I have neither. But the same pest control place we are or were using is making me feel like I'm losing my mind, when I'm not. My husband and daughter are getting bitten also, but my two sons that stay upstairs never say anything about something biting them.
Now on the other hand we have a cat and whatever these things are they're tearing her up. She pulls chunks of fur out cuz she's scratching so badly I have also taken both my cat and dog to the vet and they have no fleas. So I'm hoping by doing this someone can help us before we have to move.
I have done a lot of research myself and the only thing I can think of is bird mites. I live in Indiana and not all pest companies know anything about bird mites. We live on 4 acres of land and whatever is in the inside is also on the outside as well. Please someone help. I feel like my life has been taken over by these bugs we have to eat and drink with Saran Wrap on our cups and plates, etc.
I have uploaded the things that I have found in our home. I realize there is a few different pictures of bugs and one pic is of what looks like maybe eggs or something. They were around our fish tank on the outside of the tank.