Grandma J
Silver Feedback Medal for All Time! 270 Feedbacks
July 8, 2010
0

found this helpful
What kind of ticks are these? Deer ticks are tiny, hard to see.
Your dogs need tick treatment, your lawn needs to be cut very short (without burning it). Those are immediate fixes. If near wooded areas, again, short grasses as ticks need height to crawl on people/dogs as the run by.
Find out from the county where you could get and use DEET product in large quantities. This is the only other thing that deters ticks. Also check with your county/state extension service. They will have answers.

November 26, 2010
0

found this helpful
I have 3 Boston Terriers (so short-haired). They get a frontline treatment once a month. We live in Hawaii in a community association, so definitely not country. We just moved into this place a few weeks ago. We've had the yard professionally treated once and used Home Defense at least 2 or 3 times in the 3-week span.
Yesterday, while my husband was making Thanksgiving dinner, we let our dogs run around the yard for an hour, just a day after my husband sprayed Home Defense. (I'm getting itchy just typing this stuff). When we brought them inside, my husband told me to quickly grab the camera and a bowl of water. We pulled at least 30 ticks off of each dog...over 90 ticks total.
It seems no matter what we do, the ticks keep coming back. It's such a stressful and frustrating situation. If we have ticks, then no question that our neighbors have ticks too.
I am at wit's end because we moved from an apartment to a house, just so the dogs could have a yard to run around in. And they have so much fun running around. It's sad to see them sit at the door, starting at it, wondering when they'll get to play again.
As a last ditch effort, I'll try the chips/granules. We're planning on bringing it up with the association, but we can only do as much as our neighbors do, from the sounds of it, is nothing. I'm totally thinking about taking a loss on this and moving to a different house so our dogs can enjoy a tick-free yard.
I've attempted to attach a picture of the bowl of water where we emptied the ticks.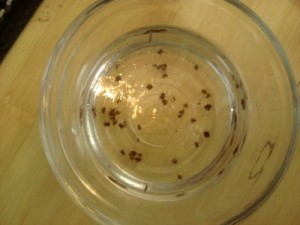 May 31, 2011
0

found this helpful
You can try growing a plant called pennyroyal. We have a tick problem that isn't anywhere near as bad as yours but bad enough that it's annoying. So, I've been doing some reading up on possible remedies and it seems this plant scares off ticks and can also be used as a flea repellent on dogs and can be used as a general bug repellent on people.
However pregnant woman shouldn't go anywhere near it and I'm also reading it can be poisonous to cats.