Getting Rid of Tiny Black Biting Bugs?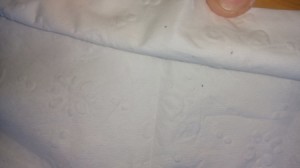 My boyfriend and I have been dealing with this very tiny black, biting bug for almost a year now. We both have been treated many times for scabies which as you can see we still have the problem. We did the scabies cream at least five different times, yet still have the lil creatures from hell.
I have Googled many times trying to find out just what they are and how to get rid of them. Some people suggested maybe they are bird mites, but idk if they are or not. All I know is bleach doesn't kill them and neither does any cleaner I have tried. I take bleach baths. I tried lavender baths, even lice killer baths and they are still about to drive me to the edge. It's hard to live a normal life walking around itching and feeling something crawling, but you can't see it. Not to mention the sores that leave scars on your body. Please someone tell me what they are and the resolution to end this nightmare.
Add your voice! Click below to answer. ThriftyFun is powered by your wisdom!
October 3, 2017
1

found this helpful
Best Answer
Dealing with Bugs
Step 1
Put the bugs in a sealed plastic bag.
Step 2
Call an exterminator or go to a place where they sell pesticides.
Step 3
Vacuum often and throw out the bag in a sealed garbage bag outside.
Step 4
Make sure you vacuum in the folds of material in upholstery and drapes.
October 9, 2017
1

found this helpful
Where all screwed ! When will we be taken seriously? We need to come to realize that no one wants to acknowledge this and we are on our own I did everything 2 times moved and threw out all my furniture and clothes after 3 months it's back in at my wits end and am contemplating suiside this is no joke we all can't be delusional and I'm fed up with all these posts because we ALL have the same problem to the tee and nothing NOTHING can be done to eliminate this biological warfare that we are dealing with the way the CDC is handling makes me believe they know what it is and to protect the lab idiots that created this disaster at our expense I hope they all get this and it reeks havoc on there lives too I'm officially done and have no more to say about this sick irritating creature that no one seems to acknowledge until their crawling up their asses too good luck you'll need it !
March 25, 2018
0

found this helpful
Thank you we got them bad black bugs too and we move and still have them. They are eating us and no one will believe us it is crap
Read Grizzmilking it's on Amazon you will get a laugh at least. Good luck
July 7, 2020
0

found this helpful
You can use Diatomaceous earth to get rid of most bugs in your home. Sprinkle it over the carpet and it will kill the live bugs and the eggs.
October 4, 2017
6

found this helpful
Best Answer
I can help you with some solutions for the biting and itching from the bug bites.
One thing all bugs don't like is the smell of mint. You can easily make mint oil at home to use on your skin. This will repel the bugs and keep them from biting you. Here is how to make the oil. Put a small pack of fresh mint in your blender. Add a bottle of cheap cooking oil. Mix the content together in your blender. Afterwards, pour this into a saucepan and heat on your stove. Do not let this come to a boil. Once cooled, pour the oil into a bottle. Cover the bottle with a clean white cloth and pour the oil into the bottle. Use this oil on your skin and it will repel the bugs. I know this works because we use it in Tahiti and it is the only oil that keeps bugs from biting people.
You can do the same with fresh basil leaves. You can make a basil oil to help protect your skin and the bugs from biting you.
As for itching and skin irritation you will need to use Apple Cider Vinegar. Apply this to your skin using cotton swabs. If you have an area that is really bad use one of the round cotton makeup removers soaked in the vinegar. Apply this to the area and leave it. When you remove the cotton it will be warm and the color changes. This is pulling out the poison from the bug bites.
Now for your bugs: By law if you rent a house or apartment, your landlord has to spray your home and take care of this problem.
If he refuses to spay your home do it yourself. Keep the receipt for the amount you paid. On your next months rent include this receipt and deduct the amount from your rent.
If the owner is not spraying your home and this is a health issue you will need to call the health department and report this.
October 7, 2017
0

found this helpful
On point 5, you should absolutely NEVER withhold rent. Ever. In some states you can be evicted for cause, even if you have a valid reason such as this for not paying the full amount. But I do agree, give a copy of the receipt and submit an invoice for the difference. If the landlord won't pay, contact a renter's advocacy agency in the area. They are usually free and are set up to help renters resolve issues with landlords.
April 23, 2018
0

found this helpful
Where do you get fresh mint , Im getting ate alive they especially love my feet and eyes and hair. They dont bother my husband.
Bombs dont work and if I use rubbing alcohol or windex they go elsewhere on me but they are everywhere and they attack all day and worse at nite
April 24, 2018
0

found this helpful
Fresh mint should be available at any supermarket with the other fresh herbs. You could also buy an herb start and plant it in the area. Be warned that it is difficult to get rid of once planted so you may want to put it in a container rather than straight into the ground.
October 3, 2017
0

found this helpful
Little black biting bugs.
It is up to your landlord to pay for an exterminator.
You need a professional to get rid of these bugs.
Try calamine lotion for the itch.
Bath in cornstarch just add a cup to your bath water.
Do not use bleach on your skin.
They could be fleas even if you do not have an animal they could be from someone elses pet.
April 22, 2018
0

found this helpful
Did you get a response to this that works because we have been suffering with this for a year. It is on our beds, our hair and clothes.
Add your voice! Click below to answer. ThriftyFun is powered by your wisdom!
Advertisement
Published by ThriftyFun.
© 1997-2020 by Cumuli, Inc. All Rights Reserved.
https://www.thriftyfun.com/Getting-Rid-of-Tiny-Black-Biting-Bugs-1.html