This is a great time to consider implementing alternative energy such as solar power. Many states, including Massachusetts, have allocated monies to promote conservation and help states reduce their carbon output. If you install a solar system on your primary home, you can receive a Tax Credit on up to 30% of the cost, up to $500 per .5 kW of power capacity. This credit expires December 31, 2016. A tax credit reduces the amount tax you owe and so saves more money.
I have installed both a solar hot water system and a solar system to generate 50% of my electricity. Even though I am using home equity to pay for this, my electric bills will immediately show a credit for the power my house generated so I will have money to repay the loan. And every three months, I will receive a check based on the amount of power generated for the NEXT 10 YEARS.
These SREC programs ensure that the utilities purchase clean power. At the minimum rate, I expect to receive approximately $2400/year. Not only does the installation pay for itself but it also cuts my electric bill for the next 30 years.
I love saving money and containing expenses but going sun-powered here in Massachusetts allows me to be frugal with natural resources, substantially reduces the amount of carbon used by my household, and increases the value of my home without affecting my property taxes for 30 years!
Installing solar puts local people to work in green industries which is a far better investment than casinos.
By rapierwit from Boston, MA
Read More Comments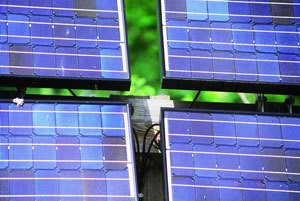 When it comes to solar power, most people are interested in it, but they have no idea how to get started. For those that decide to forge ahead and explore their options, many become intimidated by the all of the confusing terminology or abandon their solar aspirations early fearing a hefty price tag. Getting started in solar isn't as hard (or as costly) as you might think, provided that is, that you start with the basics.
Step #1: Reduce Your Use
Before you sink $10,000-$12,000 dollars into a full-blown solar powered system, have an energy audit done on your house. Solar panels won't change how your house uses energy, it will only change how the electricity your house uses is generated. If heat still escapes out the windows, walls and attic, or you're still operating energy-hogging appliances, $10,000-$12,000 in energy efficiency upgrades will do far more to help the environment (and lower your energy bills) than solar panels.
Examine Your Motives
My husband and I are in the planning stages of building our "Green Dream House" and recently attended a Green Building Conference to gather some information. Our workshop presenter posed this question, "Why do you want to go solar?" Many of us answered that it was good for the environment, others said they wanted to eliminate their dependence on local utilities and still others hoped to sell their excess power back to the utility companies for a profit (although these people soon realized this was not a realistic goal).
A few people also hoped they could lower their monthly utility bills, but failed to factor in the upfront costs of installing a system. While solar power is good for the environment, it's still much more expensive than getting power from your local utility company. How will you use it? To heat your home? To generate your electricity? To heat your water? To light your home's interior and exterior? How you answer this question will determine whether or not your should even start investigating your solar options.
Evaluate Your Site
Obviously, solar panels need sun to generate electricity efficiently and economically. The amount of electricity you will be able to generate at your site depends on how much of the sun's energy reaches it. Ideally, locations in the northern hemisphere should be orientated to true south. However, panels can usually face up to 45º east or west of true south and still perform sufficiently. You may be able to use either roof-mounted panels or free-standing systems for the ground that are either fixed in one position or designed to "track" the sun.
The orientation of your roof, shade from trees and other landscape features and local weather conditions (amount of fog or afternoon clouds) also need to be considered. Also keep in mind that some solar rebates may stipulate that panels receive full sun during specific afternoon hours. A solar system installer can either perform an onsite analysis or give you information on how to do your own.
If you determine that installing a solar system isn't right for you because of your site, but you still want to participate in using renewable energy, consider offsetting your current power use by investing in renewable energy certificates (green power) through your local utility. To find out what is available in your area visit the EPA's Green Power Partnership page at http://www.epa.gov/grnpower/locator/index.htm
Assess Your Current Rate of Consumption
Whether you're investing in solar energy to generate all of your home's power or just to heat the water, you will need to assess how much power you currently use before you know what size system you'll need. To do this you need to evaluate your energy consumption patterns and determine whether or not you can find ways to reduce the amount of electricity you use. Look at your monthly utility bills over the course of a year. Make note of when you use the most energy and how many kilowatts you consume in an "average" month. Solar panels are designed to produce a specific number of kilowatts of electricity each hour of full sun ( e.g. a 100 kW system would produce 100 kW of electricity in full sun for one hour).
Determining Costs (& Long Term Savings)
Once you determine the number of kilowatts you need you will be able to determine how much a system that can handle the load will cost. The up-front purchase price of solar power systems can vary depending on whether you install if yourself, your geographic location and whether or not you buy new or used panels. There are many rebates, subsidies and tax incentives available that, depending on the system, can defray the cost of installation by as much 50%. These usually come in the form of tax rebates, property tax exemptions or sales tax exemptions and are sometimes capped at a certain dollar amount. The electricity you produce using solar costs you zero, and in the case of systems tied into the grid, most states are required to buy back any power produced that you don't use, usually in the form of a credit for times when you can't produce enough power on your own. The savings to the environment, of course, is priceless.
Sunny Resources
Read More Comments
The panels on the left roof will generate electricity and feed into the NSTAR grid. On the far right, those panels generate hot water. My last solar hot water system lasted 30 years.
The house is painted with a linseed oil based paint. Every 7-10 years, it will need a reapplication of clear linseed oil. The color does not need to be reapplied. This keeps the wood in good condition and is less expensive than buying and reapplying paint.
By Rapierwit from Boston, MA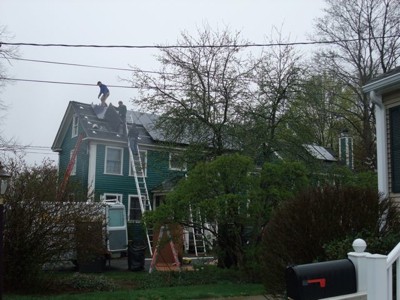 Read More Comments