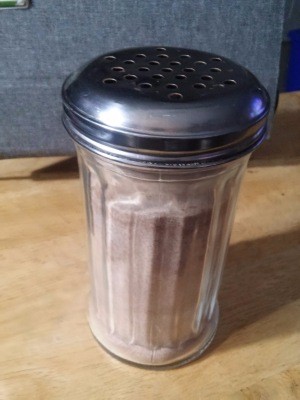 I love having cinnamon and sugar, powdered sugar, etc in a shaker on hand. Some problems I have come across are clumping, spilling and can attract critters. With my upgrade my shaker no longer has any of those problems.
Supplies:
Orange juice concentrate metal lid
Glass shaker
Marking pen or label
Dry filling
Instructions:
Wash and dry orange juice concentrate metal lid. Place lid with the high lip side up and label. Mine says "This end up". Feel free to use any wording or symbol you like. Seal labeling so handling will not be a problem. Fill shaker with dry ingredients. Place labeled metal lid over the opening of the shaker with the labeling and lip up. Screw shaker lid back on securely. Store shaker.
When shaker is needed, tap shaker over sink, plate or trash (so any contents that are on the lid fall back into the shaker and doesn't make a mess). Unscrew shaker lid. Take sealing lid off and place near by. Replace shaker lid and shake away. Once ready to store, tap the shaker over sink, plate, trash etc. Unscrew top lid. Replace sealing lid lip and labeling up. Screw shaker lid back on and now it is ready to store.
Thank you for reading and hopefully this works for you as it did for me.