I had heard of buckwheat pancakes but had never tried them. A friend told me he had eaten some in a restaurant and was surprised at how good they were.
I read all about the health benefits of eating buckwheat on the internet, and started searching for some buckwheat flour. I found some at a health food store. Buckwheat is not wheat at all and it is gluten free. It is really good for you.
Waffles and pancakes are easy to make and do not take much time. To save some time, you can mix the dry ingredients together and add the other ingredients later.

I usually double the recipe and freeze them. They are just as tasty heated up in the microwave or toaster oven.
Total Time: Just a few minutes while the waffle iron is heating up.
Yield: makes 8 pancakes or 4 servings.
Source: Posted on the internet food.com and from Light and Tasty's June/July 2005 issue by A Messy Cook on May 26, 2005.
Ingredients:
1 cup buckwheat flour
2 Tbsp brown sugar
1 tsp baking powder
1/2 tsp soda
1/2 tsp salt
1/8 tsp cinnamon
1/8 tsp nutmeg
1/8 tsp clove
1 egg
1 cup buttermilk
1 Tbsp butter, melted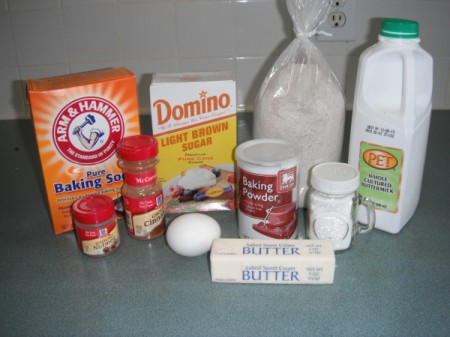 Steps:
Combine dry ingredients in large bowl.
Whisk remaining ingredients together and stir into dry mixture just until moistened.
Pour batter by approximately 1/4 cupfuls onto a hot nonstick griddle coated with nonstick cooking spray.
For pancakes, turn when bubbles form on top. Cook until second side is golden brown.
For waffles, cook until browned well.
Comments
December 24, 2015
1

found this helpful
I love buckwheats myself; thanks for the recipe.
However, I'd like to make a comment re "gluten" intolerance.
I wonder how many people know that almost all baked goods now contain a plastic called azodicarbonamide, a foaming agent used in shoe soles and yoga mats. This is believed to make people more sensitive to gluten. I've eaten wheat all my life, prefer whole wheat, but I tend to make my own.
If people who think they are a little sensitive but not too much try and make their own bread, maybe they would find they are not gluten sensitive at all. What hair brains on what corporate committee decided plastic was a good idea?
January 12, 2016
0

found this helpful
I tried something different with my recipe. In place of the brown sugar, I put 3 tablespoons of Grandma's molasses. For the spices, I used 1/8 teaspoon each of Ground Cinnamon, Ground Nutmeg, Ground Ginger, Ground Allspice and Ground Cloves. It made 3 sets of 4 waffles which I will freeze. In the picture, there's one missing. I ate it!
When I want some, I take them out of the freezer and toast them in the toaster oven. They come out crisp. Delicious. My husband likes them too. No pancake syrup needed.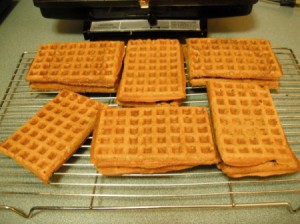 August 10, 2016
0

found this helpful
I made a batch of waffles. I added 1 small mashed banana and 1 cup of sweetened flaked coconut to the recipe. I didn't know what the results would be. They turned out great and are so good. They won't last long.