Go Camping Father's Day Card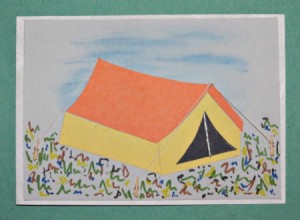 Father's Day is the one day in the year when you can tell your father that he is your hero. Make this card to remind him of your last camping trip. An excellent way to thank him for quality time spent together in the outdoors.
Total Time: 20 minutes
Yield: one card
Supplies:
provided pattern of tent
A4 sheet of gray marbled paper
3.7 x 5.3 inch pearl gray cardstock
orange, yellow, and black sugar paper
dark blue Faber Castell watercolor pencil
brown; dark green; dark blue; yellow and black felt tip colored pens
4 toothpicks
cream crochet thread
Pilot silver marker pen
paintbrush
standard scissors
pencil
ruler
quick-drying craft glue (such as Bostik Clear)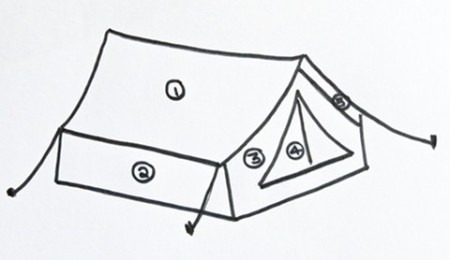 Steps:
With the longest sides of the gray paper on the top and bottom, fold the A4 sheet of paper first from top to bottom and then from left to right.
With the second fold on the left, centre and glue the pearl gray cardstock to the front of the card.
Use the watercolor pencil to color the sky area at the top of the card. Brush over the pencil strokes with a slightly wet paintbrush and allow to dry thoroughly.
Cut the different parts for the tent from the pattern sheet. Trace parts 1 and 5 on orange sugar paper and cut them out. Trace parts 2 and 3 on yellow sugar paper and cut them out. Trace part 4 on black sugar paper and cut it out.
Glue parts 1, 2, 3, and 5 of the tent to the front of the card.
Glue part 4 to the tent.
Cut one toothpick shorter to make the upright pole, and color the toothpick with the silver marker pen. Allow to dry before gluing the upright pole in place.
Cut the other three toothpicks to a length of 0.2" ~ these will be the pegs that will support the tent.
Now add the pegs to the tent: Cut a piece of crochet thread, twist it around the peg and secure it with a knot. Glue the one end of the thread to the tent and allow to dry. Pull the thread tight and glue the peg to the card. Cut off any loose pieces of thread to make it neat. Add the other two pegs in the same way.
Use the felt tip pens to add grass to the bottom part of the card. Add a message to the inside of the card and voila! You are done!
Add your voice! Click below to comment. ThriftyFun is powered by your wisdom!
Related Content