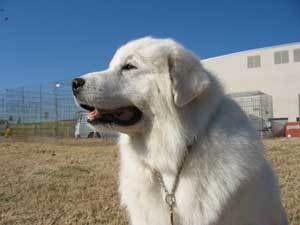 Breed Description:
The Great Pyrenees is a large dog with a solid, muscular body, a thick, water-resistant coat to withstand the elements and a kindly expression. Originally developed to guard sheep in the Pyrenees Mountains, this breed is strong and agile with an independent nature. Intelligent and loyal, the Great Pyrenees makes a good watch dog.
Group: Working group
Purpose of Breed: Guarding sheep
Country of Origin: France.
Average Size: Dogs range from 27 inches to 32 inches and weigh 100 to 125 pounds. Bitches range from 25 inches to 29 inches and weigh between 90 to 115 pounds.
Color(s): Typically white or white with gray or tan markings.
Coat Type: The Great Pyrenees has a double coat with a long, thick and coarse outer coat and a dense undercoat.
Grooming: The thick coat of this breed requires brushing daily-more so during the shedding season. They should also be bathed several times per year. Standard care for is required for eyes, ears, pads and nails.
Exercise Needs: Not particularly suited to living indoors, this large breed is best suited for a country setting where it can get the necessary daily exercise it needs to maintain its mental and physical health. In urban settings, a fenced yard is an absolute must.
Temperament: The Great Pyrenees is gentle, obedient and loyal to its owners. Watchful and alert, its heritage as a guardian of sheep makes it naturally wary of strangers. This breed can be stubborn, independent and territorial. The owner of a Great Pyrenees should be calm, assertive, and patient. This breed was not bred to take commands, but to make decisions on its own, and can be difficult to train. Pyrenees do not enjoy being confined and may turn destructive without lots of attention and exercise daily.
Common Ailments: Susceptible to hip dysplasia, skin conditions and epilepsy.
Life Expectancy: Averages 10-12 years.
Trivia: The remains of this ancient breed have been found in fossil deposits dating back to the Bronze Age (1800-1000BC).
More Information: Great Pyrenees Club of America, Inc.