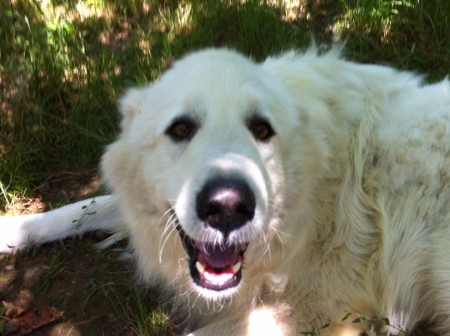 Your Pet's Age
4 1/2 years old
Your Pet's Breed
Pyrenean Mountain Dog (Great Pyrenees)
How and when did you get your pet?
I adopted Jonah 4 years ago from our local pet shelter.
What does your pet like to do for fun?
Jonah is especially fond of herding my other pets, no matter their species- parrots included! He loves to be groomed and brushed more than anything else for relaxation.
Do you have anything else to share about your pet?
Great Pyrenees are in the working dog class. They serve as faithful and devoted guardians of their owners, property, and livestock. They are believed to have come from Siberia and their fossil remains date as far back as the Bronze Age (1800-1000 BC). They were adopted as a French Court dog in the 17th century. They are often described as "majestic", with a calm and gentle disposition, but move with grace and speed to protect family and livestock. Males can reach 32" at the shoulder and top out at over 100 lbs. They live approximately 10-12 years, and make wonderful family dogs. I love Jonah very much and would not hesitate to adopt another GP, or advise his breed to others who were able to meet his needs!