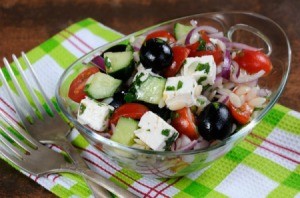 Ingredients:
1/2 cup uncooked orzo pasta
1/8 cup pitted kalamata olives, halved
1/2 cup feta cheese, crumbled
1 1/2 tsp. parsley
1 1/2 tsp. dill
1/2 large tomato, diced
1/4 large cucumber, diced
2 Tbsp. extra virgin olive oil
1 Tbsp. lemon juice
Directions:
Cook orzo al dente according to package directions. Drain well, allow the orzo to cool and transfer to a medium bowl.
Mix the olives, feta cheese, parsley, dill, tomato, and cucumbers in with the orzo.
Whisk together oil and lemon juice. Pour over pasta and mix well and chill for about an hour before serving.
By Deeli from Richland, WA