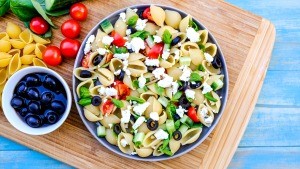 While the additional ingredients can vary the mainstay of Greek pasta salad in addition to the pasta is typically feta cheese, onion, garlic, herbs, and olives. Typically tomatoes, bell peppers, and cucumbers are also added. Finish with a red wine dressing and enjoy. Recipes can be found below.

A great summer salad! Using fresh ingredients from the garden, makes it even better. A great dish to serve at any summer picnic or barbecue.
Ingredients:
1/4 cup oil
1 1/2 Tbsp. lemon juice
2 Tbsp. fresh oregano leaves or 1 tsp dry
1 garlic clove chopped
1 1/2 cup cooked pasta
1 cup crumbled feta cheese
1 cup diced tomato
1 cup seedless diced cucumber
1/4 cup pitted olives
1/2 cup green pepper
2 Tbsp. parsley and green onion
salt to taste (optional)
*You can also add other vegetables to your taste.
Directions:
Cook pasta, drain, and cool. Meanwhile, mix the oil, lemon juice, oregano and chopped garlic together. Set aside. Once noodles are cooled, mix pasta, feta cheese, tomatoes, cucumber, olives, green pepper, parsley, and green onion together in a big bowl. Toss with dressings and salt to taste (optional). Refrigerate for a couple of hours.
*Leftovers taste even better the next day.
Servings:
20
Time:
30 Minutes Preparation Time
15 Minutes Cooking Time
Source: my mother, a wonderful cook and teacher
By Jennifer from Topeka, KS
Read More

Comments