February 2, 2018
2

found this helpful
Miz Toosa,
You and your Mum are cramping my style. You have shown me up, again.
I tried growing ginger years ago and had very little success. I was growing it for the blooms. Some of them are very nice. Maybe I will try them again.
Your Mum must be a wealth of gardening knowledge. Do keep picking her brain and relaying tips to us. Thank you, Eiko!
I will add one tiny thing to your tip. When selecting ginger from the grocer for planting , if you see roots with buds, be sure to get those. Many growers kill the roots so they will not sprout. With new buds, you can almost be sure the roots are alive.
February 3, 2018
2

found this helpful
I have a funny tidbit to share. My best friend is a Master Gardener. I often would forward some of the questions people'd ask on ThriftyFun about plant identification. One day my bestie asked me, "Wait. Why aren't you asking your mum? She's THE plant and garden pro." I did NOT even know she had that title amongst others. I watched her garden through the windows all my life but didn't know what wealth of knowledge she kept upstairs. Now I ask her for help and it's just amazing what she knows. I asked her how she finds out about this stuff and she says it's just been very interesting knowledge from digging around all her life. She's my hero.
Thank you for your addition to my tip! It's funny how before I learned this, I would purposely NOT looking for the buds. Now they can be gold. ;)
February 2, 2018
1

found this helpful
I like using fresh ginger so this sounds like a fun way to see the blooms and harvest some fresh ginger too.
I hope you are keeping a folder with all of your tips and recipes so you can publish it one day and triple reward your mom for all her help.
How about posting a photo of your mom so we can all thank her "in person"?
February 3, 2018
5

found this helpful
I am keeping an eBook for sure. Both my parents are so helpful with DIY. We always grew up with the thought of, "Why buy one when it's more economical and fun to make your own?" I can never thank them enough for instilling those ways in me.
Mum doesn't really love it when I post photos of her but this is a good shot of how I treat her every time I see her. So appreciative, kiss kiss kiss!
THANKS BETTY!!!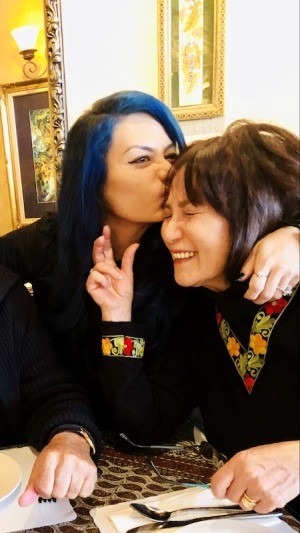 February 4, 2018
2

found this helpful
Hey! which is the mother!!!
Thanks so much for posting a photo - now we know where you get your good looks.
That is a great photo and should be in a prominent space in your home.
My mother passed away in 1981 and I truly wish that I had more pictures as sometimes it is a photo that makes your day.
February 6, 2018
0

found this helpful
I'm sorry you don't have more. I wish that you did... so it's lovely you pass on the reminder as you are absolutely right about that. As I was looking for this photo, I noticed I need more photos of and with my parents, and that this one needs a frame and hanging! Sending you huge hugs!
February 2, 2018
0

found this helpful
I have been growing ginger for several years and its great. This year we had snow, ice and freeze. I covered the ginger in the pot and am waiting to see if it made it or not....I had purchased several pieces at grocery and they sprouted and that was when I decided to plant to see what happen. Wonderful they grow and grow.
February 3, 2018
0

found this helpful
I sure hope they made it! Let us know! I'd love to know how resilient they are. My family and I are in California and it's very rare to have any ice. :)
February 6, 2018
0

found this helpful
Perfect timing! I was just about to throw out the last of my once-fresh ginger, read your note and checked that little piece of ginger .... Be darned if it hadn't sprouted! It's now safely ensconced in moist black dirt. Thanks a bunch, Toosa! I look forward to seeing the blossoms (and harvesting, of course). Great photo of you and your mum, by the way.
February 7, 2018
0

found this helpful
Yay, you are so welcome, Rose Anne! I know you of all people will make the most delicious things from your homegrown ginger. It will taste so much better knowing you grew it all yourself. Hugs!
February 6, 2018
0

found this helpful
Awesome! I just bought some. I had been planning on planting part of it. Thank you and your Mom!
February 7, 2018
0

found this helpful
Brilliant, April! We hope it goes well. Let us know! :)