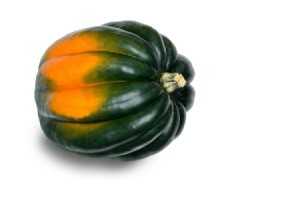 I planted some seeds from an Acorn squash I bought at the supermarket a few months ago and now have quite a few about to ripen. The only thing is, they look nothing like an Acorn squash. They look more like a squash shaped watermelon no ridges or dark green with a tinge of orange in them at all.
Finally one was ready and I picked it and cooked it. Sure enough, it was an Acorn squash, bright yellow inside and very tasty. I can't imagine why they turned out like they did and don't look the same as the ones at the market.
Any ideas or comments?
By LINDA ROLINSKI from Eustis, FL
Answers

December 2, 2009
0

found this helpful
Best Answer
Your "Acorn" Squash was probably pollinated by a busy little bee that had just "Visited" another "more tasty" member of the family. Were they planted near watermelons? Good luck.

December 3, 2009
0

found this helpful
Best Answer
Squash are notorious 'cross-pollinators'. If you plant saved seeds, you will very likely get something that is a cross breed.
It's better to buy fresh seeds every year form a reputable company if you want squash that is true to form.

December 4, 2009
0

found this helpful
OMG! I had no idea that if you plant seeds from one thing you could another thing entirely! From now on I'll buy the seeds I want from one of those seed magazines I get occasionally.
Thanks for the tip! Ya all can tell I'm a new gardener, huh? :-)
Answer

this Question