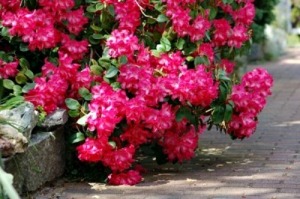 Azaleas are beautiful and versatile in the landscape. They come in a variety of shapes, colors and sizes, and have a wide enough hardiness range that even gardeners in the coldest of zones can enjoy growing them. These ornamental shrubs are very particular about the conditions they grow in-especially the soil. They are not necessarily more difficult to grow than other landscape shrubs, as long as you give them what they need.
Azaleas vs. Rhododendrons-What's the Difference?
Botanically speaking, all azalea plants are in fact Rhododendrons. Azaleas are a subset of the
Rhododendron
genus. To add to the taxonomic confusion, the rhododendron plant (small 'r') is also a member of the
Rhododendron
(capital 'R') genus. Although similar in appearance, azaleas typically have smaller leaves and flowers and bloom a bit earlier in the spring than rhododendron plants do. Both are available as deciduous and evergreen types, although the evergreen species are generally the more popular of the two. Many types of azalea and rhododendron cultivars exist (evergreen hybrids, deciduous hybrids, and deciduous standards), Not all cultivars are suitable to every location. Before planting either type of shrub, contact area nurseries (or your local county extension agent) for a list of which cultivars are best suited to growing in your area.
Planting-The Secret to Success is the Soil
Good drainage, acidic soil, and plenty of organic matter are absolute essentials, so most gardeners can expect to do at least some soil preparation to make azaleas feel at home. These plants like everything in moderation-including the sun. Although they will grow and bloom in full sun, azaleas are native to woodlands. They will hold their blossoms and flower color longer if grown in partial shade in an areas sheltered from winter winds. Steer clear of planting them close to large deciduous trees like maples, that will easily out compete these less aggressive shrubs for nearby nutrients.
Soil preparation: Start with a soil test. Azaleas prefer acidic soil with a pH range of somewhere between 4.5 to 6.0. They will suffer and fail to thrive in alkaline soil. The results of your soil test will tell you what you need to add (e.g. sulfur) to adjust the pH. Once amended, you can keep the soil acidic by adding a cup of sulfur to the soil around each plant in the early spring.
Moisture: Adequate moisture is critical for azaleas, especially while becoming established. Although they prefer moist soil, they also need adequate drainage to prevent soggy roots. If you have clay soil, you'll need to amend it with equal parts of coarse sand and organic matter or consider growing these shrubs in raised beds to improve drainage. Gardeners with sandy soils should double up on the organic matter (hummus) to help the soil retain moisture long enough to be taken up by the roots.
Mulching: Azaleas have shallow root systems, so be very careful when working around the base of them. They will benefit greatly from a few inches of acidic mulch (pine bark, pine needles, or oak leaves) applied around the base, which will protect their roots and help conserve moisture.
Fertilizer: As with exposure to light, pruning, and other aspects of cultivation, azaleas prefer being fed in moderation. Both dry and water-soluble organic fertilizers specially formulated for azaleas are readily available at most garden centers. Once the plants establish their roots, most recommend scattering a handful of slow release organic fertilizer near each plant once in the early spring and again in the fall (dry), or dissolving a small amount in water (wet) and feeding plants every three weeks. Always read and follow directions on the label carefully.
As for the practice of putting fertilizer directly in the bottom of the hole when planting-don't do it! Their roots are shallow and easily burned and the results can often be fatal.
Pruning-Sooner is Better
Azaleas seldom need pruning, although it's sometimes necessary to control their size and shape. The ideal time for pruning is right after the plants have finished blooming in the spring. Any pruning after June can jeopardize next year's flowers.
Young plants: Prune lightly to encourage lateral branching and increase the amount of light getting to interior branches.
Mature plants: Remove dead branches by cutting back the oldest stems at the base.
Renewal pruning: In the early spring (before new growth starts), use a saw to cut back the entire plant to within 12-24 inches of the ground. A less drastic, less shocking (and more attractive) method, is to cut back 1/3 of the branches each year over a three year period.
Question:
I recently replanted azaleas that are approximately 2 years old. Should I leave the leaves that have collected around them for extra insulation or remove them all and just mulch them real good?
Hardiness Zone: 5b
MinDee from Missouri
Answer:
MinDee,
I wouldn't worry about cleaning them up unless you have had problems in the past with insects or fungal diseases. If this is the case, the fallen leaves will make a nice place for insects and disease spores to spend the winter so you're better off disposing of them (don't compost). If insects and disease are not a factor, I see no harm in leaving them. After all, the leaves can also make an attractive place for beneficial insects to overwinter. The way I look at it, when in doubt, always follow nature's example. Without human intervention, plants naturally rely on the insulating properties of their own leaves to protect them from the elements and provide nutrients again in the spring. Because most of the plants in our gardens are forced to adapt to "artificial" growing conditions, we've got to help them compensate. That said, you will probably want to add some mulch to the leaves anyway, unless you think you have enough leaves to provide adequate winter protection.
Ellen
Answers
By rosa (Guest Post)
November 10, 2006
0

found this helpful
I would remove the old leaves ,just in case there is a bit of disease maybe, and mulch good. You do shread all of your leaves don't you ? :-) best mulch in the world. And also I would give a good fall feeding,either with the stakes for evergreens , or a good multipurpose feed, or you can dig in some of your great leaf mulch first before you mulch them. Then in spring when you uncover them, just dig the mulch back in the soil around the plants. You will be amazed at how they will love you for this. rose
By Elaine, Illinois (Guest Post)
November 10, 2006
0

found this helpful
Yes.
November 10, 2006
0

found this helpful
Azalea bushes love acidic soils--to add acidity, rake
away the leaves that have fallen around the azaleas, and mulch around them with some pine
needles. They will LOVE you for it!!!!
Answer

this Question

...
When is the best time to prune rhododendrons and azaleas?
By Jess from Hillsboro, OR
Answers
May 23, 2011
0

found this helpful
Right after the last bloom begins to look 'ugly'. Wait too long, and you take the risk of new bloom sets being pruned off. Next years blooms take shape soon after the last bloom of the current year fades, so pruning at the wrong time will cut off all those buds for next year and all you'll have is a green shrub in your garden.
When you do your pruning, make sure to disinfect your shears between plants to avoid transferring any fungi or pests from plant to plant (sometimes very hard to see until damage-infestation is killing your plant).
Also, open the interior of the bush a bit, and remove all crossed/rubbing branches/stems to keep fungi and aphids from finding an attractive home.
These plants are some of the most beautiful garden plantings, especially when planted in masses, but they do need to be pruned at the right time. :)
Answer

this Question

...