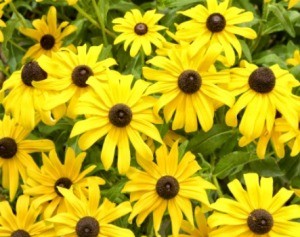 Botanical Name:
Rudebeckia
Life Cycle:
perennial, biennial, and annual
Planting Time:
spring or fall
Height:
18" to 30"
Exposure:
full sun to very light shade
Soil:
average to rich, well-drained soil; drought resistant
Hardiness:
zones 3 to 9
Bloom Time:
summer to fall
Flower:
dark-golden yellow to orange daisy-shaped petals with chocolate brown to black centers
Foliage:
green
Propagation:
seeds, division
Suggested Use:
beds, borders, mass plantings
Growing Hints:
Purchase plants in the spring or start your own by sowing seeds directly into ground or into pots in the early spring or late fall. Seeds need light to germinate so don't cover them, but press them gently into the surface of the soil. Plants will self-seed and can be divided in the spring or fall.
Interesting Facts:
A wildflower native to North America, Rudbeckias are wonderful for attracting backyard birds, especially finches, chickadees, cardinals, sparrows and nuthatches.