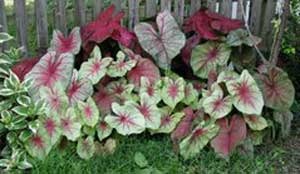 Botanical Name:
Caladium bicolor
Life Cycle:
perennial
Planting Time:
spring
Height:
2'
Exposure:
full to partial shade
Soil:
moist, average to rich soil with a neutral pH
Hardiness:
9-11
Bloom Time:
summer to fall
Flower:
inconspicuous, grown for foliage
Foliage:
angel wing-shaped leaves with green borders
Propagation:
bulbs
Suggested Use:
accents, beds, borders, and shade gardens
Growing Hints:
Plant bulbs outside as soon as soil is thoroughly warm. If starting bulbs indoors, they prefer to be heated from the bottom. Removing flowers will direct more energy into leaf growth. Common pests include slugs.
Interesting Facts:
Caladium plants are also good choices for containers. Today's hybrids are the result of widespread breeding between tropical species.