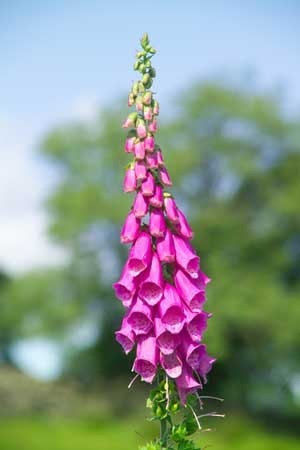 Growing Hints:
Purchase plants or sow seeds directly in garden in midsummer or sow in pots indoors 6 to 8 weeks before the planting in garden.
Plant foxgloves 15 to 18 inches apart.
Staking may be required for taller varieties.
Cut off stems just above leaves after plants are done flowering, letting a few of the spikes remain to set seed. Some varieties, like common foxglove (Digitalis purpurea) usually die after flowering in their second year.
Deadheading may extend its life for another season or two.
Interesting Facts:
The name "foxglove" is derived from folklore, where as one story goes, the plant was originally called folk's glove, the "folks" being woodland fairies and elves. The fairies and elves distributed the flowers to foxes so they could wear them as gloves while raiding henhouses.
Digitalis is Latin for finger. The thimble shaped flowers on the foxglove are the perfect size to fit a human finger.
The leaves and flowers are highly poisonous, they should be grown away from areas frequented by children.
Botanical Name:
Digitalis
Life Cycle:
Short lived perennial or biennial.
Planting Time:
Mid summer
Height:
2' to 5'
Exposure:
Full sun or partial shade (afternoon shade best in hot climates)
Soil:
Average to rich, evenly moist, well-drained soil
Hardiness:
Performs best in zones 4 to 8; will grow in zones 9 and 10 (except Florida) if given afternoon shade.
Bloom Time:
Early summer
Flower:
Spikes with thimble-shaped flowers in pink, purple, white, yellow, red, lavender and rose.
Foliage:
Upright stalks of flower spikes with clumps of green leaves.
Propagation:
Seeds, division in spring
Suggested Use:
Back borders, shady beds, roadsides, and cottage gardens.