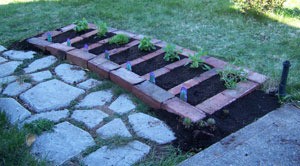 A great weekend craft for anyone who uses herbs in the kitchen or anyone who wants to spruce up their yard.
Tip: This craft makes use of old bricks. They needn't be perfect; actually the more character the better!
Approximate Time to Complete: 60 minutes or longer depending on size of garden
Materials
a selection of used bricks (I used 31 bricks to build my garden)
7 assorted herb plants (I used sage, camomile, basil, spearmint, peppermint, summer savoury, and lemon balm)
sheep manure
spade
shovel
rake
soil
Instructions
Lay out: Before beginning, decide how you will lay out your garden. Use the picture as a guide. Also take into consideration if the plants require full sun or partial shade when deciding on a garden plot location.
Preparing garden plot: If you already have an area to place the garden, add manure and soil only if necessary. Go to the Assembly instructions.
If you do not already have an area to place the garden, you must pull up and remove sod, add sheep manure, and add new soil to the garden. You will make use of the garden tools at this stage of the project.
Assembly: Once the garden plot has been prepared, you will began to place bricks in the format you have decided on. Make sure to level the soil before beginning. Start with the inside bricks first to ensure you have enough space on the inside. Create 7 separate sections, each divided by 2 bricks placed on their sides. Then move on to create the edging. Place the bricks against each other to form a neat looking wall. Fill any gaps with soil. Once the edging has been completed, place one herb plant in each of the 7 sections. Water plants to ensure a successful transplant to the new location.
Enjoy your new easy herb garden and with a little tender loving care, you should be able to harvest herbs for cooking in no time at all.
By Lisa from Halifax, Nova Scotia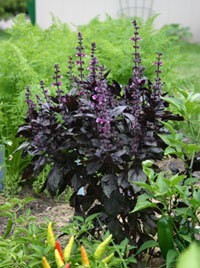 Nothing is better than harvesting homegrown fresh vegetables, but to really "spice" things up in the garden, consider setting aside a small corner for cultivating herbs.
Annual Herbs
Basil
It's tough to imagine growing tomatoes without Basil. The dark green and purple leaves of these plants are not only delicious; they make attractive borders along walkways and look great in pots.
Dill
If you plan to do any pickling, dill is a must. The stems and seeds are used for jar pickling and the leaves add wonderful flavor to salads and dishes featuring fish. Dill grows to a height of about 2 ft or more, and makes a delicate backdrop for flowers and shorter herbs.
Marjoram
This aromatic herb produces flavorful leaves that go great with leafy vegetables, as well as beans, peas and squash. It also works with almost any meat, fish or wild game and is often used as a salad-dressing additive. Its pinkish-purple flowers make a nice border or addition to flower beds.
Parsley
Parsley is the jack-of-all trades as far as herbs go. It can be used with every vegetable and a wide variety of meats. Parsley is really a biennial, but it does best if planted every year. There are three basic types: curled leaf (deep green leaves with a moss-like texture-often used for garnish), the Italian flat-leafed type and the Hamburg variety grown for its roots (boiled and served like parsnips in soups and stews).
Perennial Herbs
Chives
These members of the onion family are a great addition to salads and vegetables and their ball-shaped flowers make a great landscaping border. There are many varieties of chives available including garlic and fine-leaf types.
Mint
Peppermint and Spearmint are the traditional varieties of mint in most gardens. Peppermint is great for flavoring jellies, teas and other drinks. Both will grow in a variety of soils and can spread very rapidly.
Oregano
Oregano is known as the pizza or Italian herb and makes a wonderful addition to salads, pastas, pork, squash and tomato dishes. It spreads well and prefers a light textured, well-drained soil in full sun.
Rosemary
This herb grows best outdoors in southern climates, but can be grown indoors in a sunny location in the cooler northern climates. Rosemary is especially good in squash dishes and with peas. Its green leaves and delicate blue flowers make nice border plantings.
Sage
Sage is usually thought of as the stuffing herb. Great in pork and poultry dishes, sage can grow as high as two feet and should be cut back to encourage growth. Use it as a leafy fragrant border along walkways. Space young plants 2-3 feet apart in the garden. Snip off tender tops of young plants or pick leaves for immediate use. Cuttings can be taken from well-established plants 2-3 times per season.
Thyme
Thyme comes in several varieties, offering scents including lemon and caraway. Creeping varieties are perfect for growing along garden pathways, steps or in containers on the patio. Plant them in a sunny location where soil contains a bit of grit, allowing about 20 inches between each plant.
Harvesting, Drying & Storing Herbs
When harvesting herbs, the appearance of blossoms determines the peak for harvesting. When blossoms start to open, take cuttings during the sunny morning hours when plant oils are at their peak. Rinse under cool water to remove any dirt or insects and pick off the damaged leaves. Once dried, small bunches hung upside down in your kitchen will give off a pleasing aroma and add charm to your décor.
To prepare herbs for long-term storage, choose a drying area that is dark, well ventilated and out of direct sunlight. Spread out cuttings on an old window screen, cheesecloth or other surface that allows for plenty of air circulation. Once the leaves appear crisp, strip them from the stems and place them in airtight containers to preserve their color. Store containers in a dark cupboard or pantry shelf until you're ready to use them.
The Art of Cooking with Herbs
The key to cooking with herbs is moderation. Once herbs are added to a dish, they cannot be taken out. Herbs should enhance the flavor of your dishes, not overpower them. Use the "add-taste-add-taste" method when determining how much of an herb should be added to dishes while cooking. Let your individual taste preferences be your guide.
The delicate flavor and aroma of herbs can be compromised if overcooked or over dried. If fresh herbs are used, chop them up or cut the leaves to release flavor. Dried herbs can be crumbled between your fingers as they are being added. If a recipe calls for dried herbs and you want to use herbs fresh from your garden, add twice as much as you would if they were dried.
The best time to add herbs while cooking depends on the length of cooking time. Ideally, herbs should be added to soups about ten minutes before the soup is removed from the stove. Add herbs to the pot right away when cooking with vegetables as they take less time to cook. For vinegar-based salad dressing, add herbs to vinegar and let stand at least 1 hour prior to mixing in oil.
If your recipe doesn't call for herbs but you feel like experimenting, use the following guidelines as a base to start from:
1/4 teaspoon of fresh herbs for each 1 lb of meat or poultry
1/2 teaspoon of fresh herbs per 2 cups of soup or sauce
3/4 teaspoon of fresh herbs per 2 cups of vegetables
1/2 teaspoon of fresh herbs per 1 cup of salad dressing
What is the best way to grow a herb garden outside? Last year, I put several in a planting box, but did not use them often enough and it became overgrown.
Hardiness Zone: 6a
By Becky Muehl from Madison, OH
Answers
April 10, 2009
0

found this helpful
Becky, I grow herbs each year and never use them enough as there is just me and my husband so I trim them anyway and then I dry them in the dehydrator for about 20 minutes and crush them, put them in the freezer in a left over butterbuds bottle or any small container and when I need them they are just like fresh. You can dry them in the microwave to. Better than going to the store in georgia to find them.
April 13, 2009
0

found this helpful
To NEATLY grow herbs, I use 3# margarine tubs, cut out the bottom and that is the perimeter of what ever herb goes inside. I leave about 1 inch above the soil, stick the plant/seed inside. They get trained to stay in their own pots where without the tub, they would wander and get unsightly in the garden. I harvest when necessary, encourages growth. Esp with parsley and chives, I grab a handful at the bottom, cut it and wrap a rubber band around it. Makes for easier washing, you can 'swing' air dry it and also shove it into a bag in the freezer to pull out and deal with all at the same time for permanent use.
May 9, 2009
0

found this helpful
This picture is from spring 2007. I grow flowers and cucumbers here also. This area is about 6 ft x 7 ft.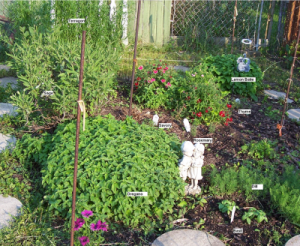 Answer

this Question

...
June 1, 2010
0

found this helpful
What is the best way to grow an herb garden outside? Last year, I put several in a planting box, but did not use it often enough and it became overgrown.

Hardiness Zone: 6a

By Becky Muehl from Madison, OH


Answers:
Growing Herbs
I use 11" to 17" pots on my deck for growing herbs, one herb variety to a pot. My biggest pot is reserved for basil, which I love and use the most. I also have an 8" pot of flat leaf parsley, which can come in, for the winter, and go back out the following spring.

Last year, I tried leaving my rosemary out, in the ground and covered it with another pot, to protect it. I live in Zone 3. I don't know if it will come back. It is still snowing here.

You must remember to pinch back the tops of the herbs to make them bush out and then to pick them, frequently. You can wash and dry them and just put each type of herb in a reclosable bag, in the freezer, to freeze flat and use as needed.

I even had greens in a "window box," but didn't use them and some of them bolted. I won't make that mistake, this year. They will get used! My deck is not only beautiful, with all the greenery, but it smells wonderfully, between the herbs and my flowers! (04/08/2009)

By Carol
Growing Herbs
I need to plant a new herb garden here. I had one at my old house. It was in a full sun (never got shade) with not the best soil and thrived, smelled good and made an ugly piece of property very pretty. I had every kind of basil and sage, lemongrass etc. I also surrounded it with petunias and marigolds and stuck a few pepper plants and cherry tomatoes in there so it was attractive and useful, even though I seriously neglected it. (04/08/2009)

By anna