EllenB
Gold Post Medal for All Time! 858 Posts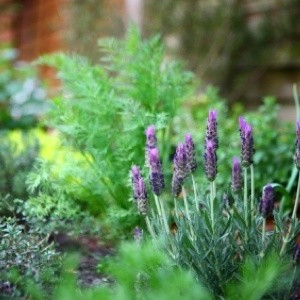 If you've ever wanted to plant an herb garden, perennials herbs are the way to go. Not only do they contribute a fresh supply of flowers, fragrance and herbs year after year, once perennial herbs gardens become established they require very little maintenance. Here are some tips for getting started.
Choosing a Location
When choosing a site for your herb garden, keep in mind how you intend to use your herbs. For example, a garden full of culinary herbs should be placed as close to the kitchen as possible to make frequent harvesting easy. If space is limited, consider raising some herbs in containers.
Most herbs need a site that gets at least 6 hours of sunlight every day. The following tolerate partial shade: rosemary, scented geraniums, agrimony, angelica, bay, bee balm, catnip, chamomile, comfrey, costmary, feverfew, germander, ginger, horsetail, hyssop, lemon balm, lovage, mint, pennyroyal, sweet cicely, sweet woodruff, tansy, tarragon, thyme, valerian, violet, and wormwood.
Perennial herbs are long-lived, so when planting them make sure small plants have plenty of room to spread out. Try to plant herbs together according to their growing requirements, not according to their use. Beware of herbs like mint (including peppermint and spearmint) and comfrey that can become highly invasive. Plant them in underground clay pots to prevent them running rampant.
Most herbs do best in light, well-drained soil and require only a moderate amount of soil fertility. Amend heavy soils or use raised beds or containers to compensate for less than ideal conditions. Drought tolerant herbs include lavender, rosemary, sage, and thyme. Herbs suitable for damp sites include agrimony, mint, and valerian.
Selecting Your Herbs
As you choose perennial herb plants, consider your personal taste, what you want from them, and the growing conditions you have available. You may also want to add in some annual or biennial herbs, such as basil, calendula, dill, fennel, or parsley.
Examples of herbaceous perennials: Agrimony, aloe, angelica, anise, arnica, bee balm, betony, burdock, catnip, chamomile (Roman), chicory, chives, clary, comfrey, costmary, dandelion, dock, feverfew, garlic, germander, ginger, goldenrod, hop, horehound, horseradish, hyssop, lavender (English), lemon balm, lemongrass, lovage, marjoram, marsh mallow, mint, mugwort, nettle, oregano, pennyroyal (English), saffron, sage, savory (winter), soapwort, sorrel, sweet cicely, sweet woodruff, tansy, tarragon (French), thyme (garden), valerian, violet, wormwood, yarrow.
Examples of woody perennials: Barberry, bay (sweet), bearberry, birch, cascara sagrada, coffee, geranium (scented), lemon verbena, passionflower, rosemary, roses, sassafras, and witch hazel.
Care and Maintenance
Once established, herb gardens are fairly low maintenance. Keep weeds in check and water them regularly.
Herbs don't require much fertilizer. A low nitrogen fertilizer in the spring and the addition of some compost should be sufficient.
Pinching off tips early in the growing season will encourage more bushy, compact growth.
At the end of the season, cut the foliage back to ground level and apply a several inches of mulch (straw or leaves) after the ground freezes. Evergreens such as rosemary, and other non-hardy shrubs should be potted up and brought indoors for the winter.
Divide perennial herbs every 2 to 3 years in the spring or fall.
Tips for Harvesting
Herbs for drying should be harvested early in the morning, just after the dew dries, but before the sun warms them up. This is when they contain their greatest concentration of oils. The exceptions: Mints, oregano, and thyme contain the greatest concentrations of oil when in full flower.
Herbs picked for fresh use can be harvested whenever you need them.
When harvesting herbs for leaves, young leaves are best. Removing flowers will extend leaf production.
Once established, up to two-thirds of the foliage of perennial herbs can be harvested at any one time. This usually allows for at least two harvests per season-one in the spring and another mid summer.
Store dry herbs in an airtight container in a cool, dark, dry environment.
Comments

Allison
Bronze Feedback Medal for All Time! 231 Feedbacks
August 20, 2010
0

found this helpful
Great tips. Here's more on herb gardens: