How do you grow an Apple Mango tree?
By Nitin from Konkan
Answers
February 7, 2010
0

found this helpful
Mangos are sweet and juicy tropical fruits that pack a lot of vitamins. As trees, they grow tall and leafy providing your backyard with some good shade. It even gives off a sweet aroma when it's flowering or if the fruits are beginning to ripen. In any case, if you want to grow your own mango tree in your yard, here are some steps on how to grow one from a mango pit.
Growing a Seedling
Prepare a bed of potting soil. Place the pit flat on the top and push it straight down. Keep the pit damp and place it where it can have sustained warmth. Mango pits usually grow the roots first and eventually sprout a seedling. This process usually takes about a month.
Preparing Your Backyard
All you have to do is to dig a hole that will be big enough to accommodate the seedling with the ball of potting material. Remember to keep the excavated soil for refilling afterward.
Planting
Carefully set the seedling into the hole. Cover it and gaps with soil. It's said that it's best to do this on the onset of rain.
Watering, Plant Food, and Care
Keep the seedling well irrigated at least to keep the soil from drying out. The young seedling needs much care during its first few months. Newly planted seedlings (year-old ones) may benefit from a small dose of pure fertilizer (around 300 grams). Weeds can also affect seedling growth.
Waiting for Your Tree to Grow
Well, the next step is practically keeping an eye on it for pests and parasites. Eventually, your young seedling will grow to be a young tree and eventually, start to bear fruits. But you have to be patient since it takes years for you to have a healthy, fruit-bearing mango tree. Good luck.
February 9, 2010
0

found this helpful
A caution about Mangos! It is possible to be very allergic to them and the juice from the skin is the worst part. It will manifest itself with blisters similar to a case of poison oak. This can come from contact with the mango or inhaling the steam from cooking mangos. Actually, poison oak and mangos are botanically related.
Answer

this Question

...
September 5, 2010
0

found this helpful
I have had a mango tree in my garden for about 3 years. Last year I got 3 or 4 mangoes, but all of a sudden this year the tree has several bunches of baby mangoes. I never thought they would grow in southern California, but I am wondering if I should pick off some of the budding fruit. They can't possibly all turn into edible fruit can they?
Hardiness Zone: 10a

By Katherine from Beverly Hills, CA
Answers:
Growing a Mango Tree
I know for sure that most of these fruit can be taken down when a fairly big size and eaten as raw mangoes.
You don't need to pluck any mangoes off. (07/14/2010)

By Vidya
Growing a Mango Tree
I used a damp paper towel to root some mango pits and even some avocado stones.
(08/21/2010)

By skayc1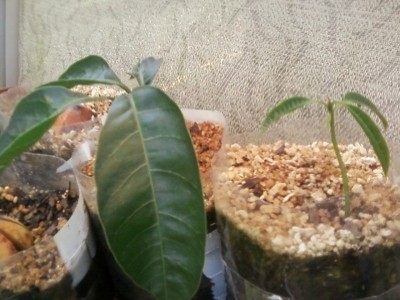 December 7, 2009
0

found this helpful
I am planning to grow a Mango tree in Athens, Greece. I have carefully read the instructions that you gave to other people regarding planting the seed. I would like to ask you two questions:


1. If I eat the mango fruit, take the seed and plant it after 5-7 days is it OK? or should I plant right after consuming it?


2. In Greece we have a relatively warm climate. Sometimes during winter maybe for one month is relatively cold below 10 degrees Celsius. I would like to ask you. Do you think is a good idea to plant it in a big pot and keep it there until next spring so that might be strong enough and to replant it to my garden?

Konstantina
Answers:
August 15, 2008
0

found this helpful
Question:
Is it possible to grow a Mango Tree in South Georgia. I'm in Zone 8a.
Sherry from Valdosta, GA
Answer:
Sherry,
If you want to grow it as a houseplant, yes. If you're interested in home fruit production, probably not. Mangoes are adapted to tropical and subtropical areas, meaning consistent summer-like temperatures are a major factor in determining their success. This fruit tree is extremely sensitive to cold. At temperatures below 40ºF, a mango tree's ability to flower and produce fruit becomes seriously compromised. When temperatures drop below 30ºF, the tree's leaves and branches will almost certainly suffer damage. Exposure to temperatures below 20ºF, even for a short time, can kill the tree. At the moment, I'm afraid there are not any varieties of mango trees that are considered cold-resistant.

If you want to grow an exotic house plant, mango trees are an excellent choice. They develop large, beautiful leathery leaves. You can start your own by extracting the hairy husk from within the flesh of a mango you buy at the grocery store. This husk contains the seed. Clean the husk by removing any remaining fruit and cure it (leave it out to dry) overnight. After the husk is dry, gently pry it open with a knife and carefully remove the seed and place it into a plastic bag filled with damp moss or moist paper towels. Keep it in a warm place, preferably with temperatures as close to 80ºF as possible. You can also plant the seed, round side up, directly into a pot filled with compost or a soil-less seed starting mix. Plant it about _ inch deep so the seed is just peeking out from the compost. Cover the pot with plastic wrap or a 2-liter soda bottle and keep the pot in a warm place until the seed germinates (a week or so). Leave germinating seeds in the pot (or bag) long enough to develop some good roots before transplanting them into soil and keep your eye out for developing mold.

Good luck!
Ellen
---
Question:
I would like to grow a mango tree in my yard. If an apple tree can survive the cold, why not my mango tree? How hard would it be? Any suggestions would be helpful.

Hardiness Zone: 6a

Susie from Celina, Ohio
Answer:
Susie,

To flower and set fruit, mangoes need a frost-free climate. There are no cold-resistant varieties. Any temperatures below 40ºF, even if only for a short time, are likely to kill the flowers and the fruit. Young trees can be seriously damaged at temperatures below 30° F and most mature trees will only take temperatures in the twenties for a short period of time.

That said, if you have a sunny room indoors you may consider growing a mango tree as a houseplant. To start one from a fruit, remove the hairy husk from inside the fruit (the seed is inside the husk), clean off any pulp and let it dry 24 hours. After it dries overnight, use a dull knife to pry open the husk and remove the seed. Place the seed in a plastic bag filled with damp moss or newspaper and keep in in a warm place until it germinates (2-3 weeks). You can transplant the sprouted seed into a pot filled with well-drained, nutrient-rich soil. Keep the soil damp (not wet). Your seed will eventually grow into an attractive houseplant, but it is extremely unlikely it will ever flower or bear fruit indoors.

Ellen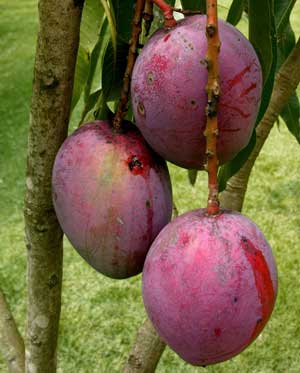 Answers:
Growing a Mango Tree
Apple trees are grown in cooler climates. Alas, mango trees are tropical and one can't even grow one well in San Diego! I live in No. Cal and can't grow one that will fruit here. (03/17/2006)

By
Growing a Mango Tree
Another option would be to grow one as a houseplant. Have a look at http://www.plantea.com/mango-houseplant.htm (03/17/2006)

By Erin
Growing a Mango Tree
You should be able to successfully grow mango trees provided you don't get regular or heavy frost in winter. Mangoes hate frost, and will die easily if frosted often or hard. If you wish to plant a mango, it's really easy, just dry the seed out once you've eaten it and plant it with the hairiest end up, (point down) in plain soil, preferably slightly sandy soil. Good luck! (08/24/2006)

By Stephanie
Growing a Mango Tree
You don't have to go through all the trouble of opening the seed pod. All you do is lay the clean hairy mango seed flat on top of a pot of soil and gently press into soil but don't completely cover it. This is the way they do it in Bolivia. I have two mango trees growing on my patio zone 9 in half day shade. They are a foot tall now. My friend from Bolivia said if you want fruit then you have to have two trees for pollination. (10/02/2006)

By anita banita