EllenB
Gold Post Medal for All Time! 858 Posts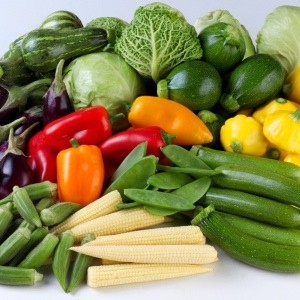 Baby or miniature vegetables have been always been a staple in Asian cooking, and they have been popular in restaurants and kitchens across most of Europe for decades. Now that they are soaring in popularity here in North America, the price to buy them is soaring as well. Fortunately, gardener, even those without a lot of space can enjoy miniature vegetables more economically, by simply by growing their own at home.
Significant Space Advantages
Growing miniature vegetables can offer significant space savings to the home gardener. Most varieties produce early and often (with succession planting) and they take up very little space. This works well for the gardener limited to window boxes, hanging baskets, and patio pots. In addition, their quick maturity means fewer weeds, disease, and pest problems to content with.
Two Secrets About Miniature Vegetables
Most miniature vegetables are not really miniatures. Even though many are marketed and sold as "miniature" vegetables, the majority are actually full-sized vegetables in disguise. Of course dwarf varieties of vegetables exist (cherry tomatoes, for example), but the vast majority of miniature vegetables are actually full-sized vegetables that have been grown in crowded spaces and harvested as babies, hence their smaller size, softer texture, and sweeter taste.
Miniature vegetables are grown the same way as full-sized vegetables. The difference is that they are spaced more closely together when planted, and they are harvested while still immature.
Selecting the Appropriate Varieties
One of the more difficult aspects to growing miniature vegetables is selecting the right varieties.
Immature Specimens: Some full-sized vegetables lend themselves well to being grown as miniatures, for example carrots, beets, onions, summer squash, and sweet corn. With the exception of squash, these crops are planted close together in blocks instead of rows. This way growth is restricted and so the need for weeding is reduced. Each is harvested at the optimal time to maintain the ideal size and sweetness.
Finding out just what size is optimal for you may take a bit of experimenting. Vegetables like summer squash are harvested when the fruits are small, but still planted with enough space to allow the vines to grow normally. Corn is another example of a full-sized vegetable that can be made miniature by harvesting the ears just as the silk emerges from the husk.
Dwarf Varieties: With dwarf varieties of vegetable seeds now so widely available, many gardeners may just want to go straight to planting varieties bred exclusively to grow into a miniature size. This is by no means an exhaustive list, but here are some great varieties to get you started:
Beans: Baby Bush Beans
Beets: Chiogga; Little Ball
Cantaloupe: Minnesota midget
Carrots: Minicor; Paramex; Golden Ball; Mini Express; Baby Spike; Lady Finger
Corn: Baby Asian; Golden Midget
Cucumber: Bush Pickle
Eggplant: Bambino; Easter Egg; Little Fingers
Lettuce: Tom Thumb (tennis-ball sized heads);
Peas: Petit Pois
Peppers: Little Dipper
Potato: Landyfinger
Pumpkin: Munchkin
Squash: Zucchini 8-ball; Roly Poly
Tomato: Ladybug; Snacker's Delight; Lemon Drop; Jelly Bean
Watermelon: Sugar Baby