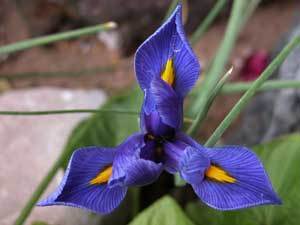 Botanical Name:
family Iridaceae
Life Cycle:
perennial bulbs
Planting Time:
spring or fall depending on type and zone
Height:
4" to 6"
Exposure:
sun to partial shade
Soil:
average to rich, well-drained soil
Hardiness:
zones 5-9
Bloom Time:
winter to early spring depending on zone
Flower:
variety of colors depending on type: white, blue, purple (some with yellow markings), canary yellow (may have green or orange-brown markings).
Foliage:
green; leaves tend to be short at flowering and elongate after bloom fades to a length of about 12 inches.
Propagation:
division
Suggested Use:
beds, borders, rock gardens, around trees and shrubs, containers and indoor forcing
Growing Hints:
Plant Dwarf Iris in the spring or summer from potted plants or bare-root divisions. Bulbs should be spaced 3 inches deep and 6 inches apart in a sunny location with well-drained soil. Water regularly and do not cut back the foliage until it dies back naturally. Give them time to store enough nutrients for next year's season. Divide plants in the spring every 3 to 4 years to keep them looking their best.
Interesting Facts:
Two of the most common species of the Dwarf Iris are Iris reticulata and Iris dandordiae. The first originates from the Caucasus Mountains in the Middle East and is the variety most commonly sold commercially. It comes in beautiful shades of blue and purple. Iris dandordiae exhibits all of the same characteristics as Iris reticulata, but is a bright canary-yellow color.