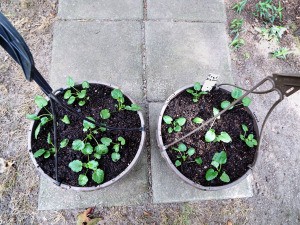 I have saved lots of pansy seed from store bought plants over the years. Force of habit, I guess. I never planted them, though. What a shame. That wasteful practice has come to an end, as of now.
Now that I have learned just how easy it is to grow pansies from seed, I plan to do so from now on. The only exception would be if I find a pansy I don't have, really like, but can't find the seed. Then, I would but the plant one time to get the seed. After all, we do want to keep our suppliers, growers, and breeders in business.
I just transferred some pansy seedlings from trays to hanging baskets. The seeds were planted mid August. From mid October til the first hard freeze, these baskets will make a very nice display. Then after a period of semi dormancy, they will bloom again from early spring til early June.
What was my cost for these two hanging baskets? We won't count labor; it was a labor of love. The seven plants per basket came from seed costing less than 5 cents, a total of less than 10 cents for two baskets.
The baskets were saved from previous purchases. Cost, zero. They were half filled with saved Styro chips. Cost, zero. Then filled with my own soil. Cost, zero.
So, unless you want to count a small amount of fertilizer and some water, my total cost was less than 10 cents. How does that compare with the price of two (granted, already in full bloom) baskets purchased from a garden center?
Two baskets, as these will be by mid October, will cost $25.00. My savings, $24.90. You can't beat that with a stick. But, there is much more to this bargain.
Most anyone can walk into a garden center, buy a couple of hanging baskets of pansies, take them home and hang them up. But if you really love plants, no amount of money can buy the pleasure and satisfaction found in growing them, yourself.
Yeah, $25 worth of pansy baskets for 10 cents. That's frugality to the inth degree. And my real reason for sharing this tip with you? Just so I could show you, and brag about, the very first pansies I have ever grown in my life.
Yes!