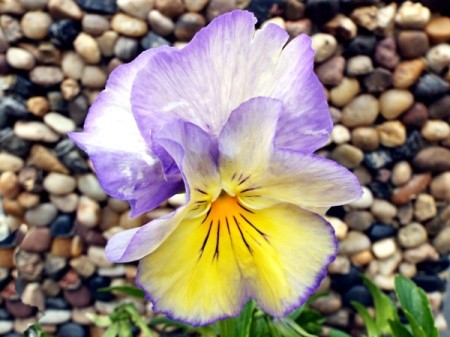 Photo Description
What's a pansy worth? Well, I suppose that depends on who you ask. If you ask me, I'd say a lot. I put a lot into pansies this and last year, my first time to grow them from seed.
I learned a lot from this little endeavor. I think the two most important things I learned was that pansies thrive on being transplanted. Two or three times is even better.
The second thing I learned was, the sooner the seed are planted the better. I lost a lot of my pansies. I started planting seed in mid August. I did three more plantings at 3-4 week intervals. I lost none of the first planting, a few of the second planting, more of the third and a lot of the fourth.
I'm thinking the plants need a lot of time to develop a strong root system to carry them through the winter. And while the hot summer months will kill a mature pansy plant, it seems to have no effect on seedlings as long as they are protected from direct sunlight. This summer, I will start all my pansy seed no later than the third week of July. Hopefully, my losses will be at a minimum.
What's a pansy worth? The above picture will become a keepsake. I hope to photograph a mate for this one, have them both enlarged and frame them. To me, priceless!
Photo Location
My garden.