EllenB
Gold Post Medal for All Time! 858 Posts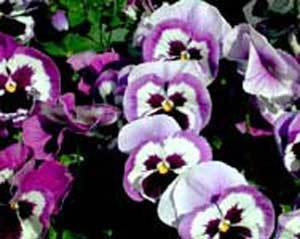 Botanical Name:
Viola x wittrockiana
Life Cycle:
annuals, biennials, perennials
Planting Time:
spring or fall
Height:
6" to 9"
Exposure:
full sun to partial afternoon shade (especially in warmer
zones
)
Soil:
rich, moist, well-drained soil
Hardiness:
7-11
Bloom Time:
year-round depending on climate
Flower:
various happy colors; multi-colored or solid; lightly scented
Foliage:
green
Propagation:
seeds
Suggested Use:
borders, beds, containers, edgings, and companion plantings
Growing Hints:
Start indoors from seed 10 to 12 weeks before last spring frost. Cold treat planted pots for two weeks before moving to a warming temperature to sprout. Seedlings are also widely available from nurseries and should be transplanted 6 inches apart. Deadheading spent flowers will extend blooming period.
Interesting Facts:
The dark velvety centers of some pansies are said to look like little faces. Pansy petals are edible and make attractive additions to salads and desserts. Wash off potential chemical residues before using the petals-especially if you purchased the seedlings from a nursery.

First, I don't know if I'm in zone 7a, Tulsa is NE of OK City, which is zone 7a. Anyway, as you can probably already tell by now, I don't know the 1st thing about planting or taking care of flowers.
However, my son is selling pansies for his band fundraiser and I'm sucker enough to buy some because he says he's the only one who hasn't sold anything. But I don't know what to do with them.
It says they are 4 inch pots, with 18 per flat to be delivered the end of Oct. I haven't ordered yet, but figured I'd order 2 flats, 1 dark blue and 1 either yellow or citrus mix.
I have a spot under a tree that faces north in my front yard where they would be nice, but I don't know if that is an appropriate place. I don't know what I'm supposed to do to prepare the ground, how to plant them, how to maintain them over winter and what to do with them when it warms up.
Basically, I don't know anything about pansies, except that I always thought they were pretty and they are edible. I am hoping all you wonderful experts can give me some advice so I don't break my son's heart when I kill his flowers out of ignorance!
Thanks in advance.
Hardiness Zone: 7a
By Judy = Oklahoma from Tulsa, OK
Answers

Joan
Bronze Feedback Medal for All Time! 186 Feedbacks
October 11, 2010
0

found this helpful
I have never done anything to prepare the ground for planting flowers other than digging it up. That goes for whatever type of flower that I planted. The main thing is that you have to plant any plant in the amount of sunlight that is required. I would think they would come with directions.
If I remember right, pansies require a fair amount of sunlight. I guess I wouldn't worry about it until they arrive and then read the directions. You could also call a nursery and ask them the questions that you have.

Grandma J
Silver Feedback Medal for All Time! 270 Feedbacks
October 17, 2010
0

found this helpful
Pansies are the first hint of spring besides the bulb flowers that arise. As soon as the snow is gone and the sunshine hits, they peek out. So, depending on the amount of snow you get, sunshine, just prepare a spot like you would summer flowers, dig up the soil, plot out where you want them, they will come back, they will spread out (not grossly).
The amount you plan to order would do a larger sized garden for sure. Plan for about 10 square inches spacing for every 3 plants. They get full and bushy, but not tall (maybe 6-10 inches). Don't make their bed all in one place, they are a happy plant which smile in many places. Make sure they get at least partial sun.

October 17, 2010
0

found this helpful
Thanks for the advice!
Answer

this Question

My potted pansies have been doing very well for almost 2 months. Recently they apparently are being eaten by something that I cannot identify. The flowers are disappearing from around the edges until they are almost entirely gone. Is there a natural cure I can use to get rid of this pest? Thank you for your time.
Hardiness Zone: 6a
By Jancie from Archbald, PA
Answers

June 12, 2010
0

found this helpful
If you can't find the pests, try going out just as the sun starts to set. There are many caterpillars (tomato caterpillars for one) that will hide in a niche in the ground until the sun goes down and it's more cool. Then they come out and munch on your plants. I kept a whole veggie garden rid of caterpillars one year without any chemicals by going on a "hunt" just at that time of the night.
VERY effective for me, and I hope you are able to catch your culprit without resorting to chems. It does sound like that type of caterpillar/worm to me.
Answer

this Question
Found in Europe and western Asia the pansy is a hybridization of several species in the genus Viola. They are also some of the cutest, happy, little flowers you can add to your garden.
Enjoy the photos of pansies found in this page.