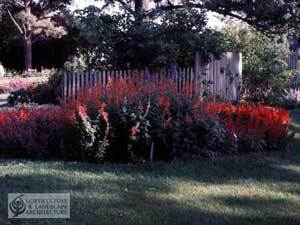 Botanical Name:
Salvia
Life Cycle:
annual, tender perennial
Planting Time:
spring
Height:
10" to 4 1/2' tall
Exposure:
full sun or very light shade
Soil:
average, evenly moist, well-drained soil
Hardiness:
zones dependant on variety
Bloom Time:
summer
Flower:
variety of colors
Foliage:
green
Propagation:
seeds (many heavy self-sowing), division (best done in spring) or cuttings
Suggested Use:
beds, containers, borders, herb gardens, and fresh or dried cut flowers
Growing Hints:
Sow seeds directly into ground in early spring or start indoors 6 to 8 weeks before last frost date. Some need light to germinate and should not be covered, but simply pressed lightly into the soil. Seedlings are also widely available for transplanting and should be spaced 10 to 20 inches apart. Pinch off spent bloom clusters for continuous flowering.
Interesting Facts:
Sage is in the genus Salvia. It is classified as both an herb and a flower.