Growing a Trumpet Vine
Trumpet vine is an invasive weed! It is sold at nurseries and they don't mention this. Don't plant it unless you are prepared to have it everywhere in your yard. I have had it migrate from the front of the house to the backyard. There is no stopping it's advance. It will even climb the bricks of your house and crack the mortar. The seed pods are similar to milkweed and will burst and float seeds everywhere.
Yes, it is pretty and yes, it attracts hummingbirds, but let it do it in someone else's yard, not yours. Leave it at the nursery.
Read More

Comments
12 Questions
Ask a QuestionHere are the questions asked by community members. Read on to see the answers provided by the ThriftyFun community or ask a new question.
Can I transplant a trumpet vine in late summer? It is in a pot now and I would like to put it in the ground.
Answers
September 3, 2018
0

found this helpful
Transplanting is best done in the fall.
September 3, 2018
0

found this helpful
They are good transplanted from spring to fall. Question is are you sure you want them. Most people around us want to get rid of them because they are so invasive and take over garden space.
www.southernliving.com/.../invasive-trumpet-vine
It is shame because they are pretty!!
September 3, 2018
0

found this helpful
I believe plant sites recommend transplanting Trumpet Vine in the early spring but a lot depends on what USDA zone you happen to be in.
Information from a major plant site:
"The timing is the same whether you are transplanting a mature plant or a rooted cutting: you want to place the plant in its new location in early spring. Deciduous plants adapt better to a new site when they are dormant, without leaves and flowers."
USDA zones 4 through 9/10 are said to be safe for outdoor planting but the plants do usually die back and return in the spring. If you plant your vine in the ground right now will it have time to acclimate and withstand the winter months?
If you are not sure then it would be recommended to wait until next spring when it begins to grow but before flowering.
Be sure that you know all about this plant before putting it in the ground as it is considered an invasive plant in many areas.
Check out this site as it has several links that has everything you need to know about your vine.
Answer

this Question
I need to know when to cut the trumpet plant back in the fall. Do I cut the plant back to the ground, will the plant come back from the roots in the spring?
Is there any pruning to be done in the summer?
Answers
April 5, 2017
0

found this helpful
I have one and have never pruned or cut it back. It comes back on its own every year.
April 6, 2017
0

found this helpful
You can prune to ground level or leave up to 8 inches. Pruning encourages flowering. Prune in the fall.
April 6, 2017
0

found this helpful
I recently received a cutting of a trumpet plant, I winterized it by keeping it in my home near a window, kept the soil moist and turned the pot once daily; in the Spring time, I planted it in full sun, it was beautiful with sunny yellow trumpet flowers, I did not prune it for this winter, it was mulched around the perimeter of the plant but not touching the base of the trunk. It is April now and new sprouts are beginning to show from the bottom of the trunk. I treated it like my hydrangas and left the old wood on the plant.
Answer

this Question
I was advised to bring my trumpet vines inside for the winter as we live in a very cold climate. I had them in pots so this was no problem. I let them dry out and have cut them back. Will they grow back now that I have started watering them? And also the seeds, can they be planted in starter pots and should they be soaked first?
Thanks
Answers
By Carol in PA (Guest Post)
April 3, 2008
0

found this helpful
I was able to start trumpet vines from seeds someone had given to me. I live in zone 5 which gets very cold in the winter. So I also brought mine indoors and left them in the garage to dry out over the winter. I merely planted them in the ground and they grew back ok. However, the one I gave to my daughter who lives in zone 7 seems to be doing better than mine. Of course, she waters hers, and I dont water mine.
You wont know until you try it. Go for it. You dont have anything to lose.
By (Guest Post)
April 4, 2008
0

found this helpful
I leave my vine out on the balcony all winter long and every year it looks as if it has died. Then, magically in spring it starts greening in. What I do to get new plants is to put small pots of cuttings around the base of my vine. Then before long, seeds have dropped and a new plant begins. I have done this for several years and now all my friends have a vine of their own. lisingreece
By Syd (Guest Post)
April 5, 2008
0

found this helpful
We are in zone 7. We have had ours in the ground from day one; the trunk is rather large now. We trim the top which is dead wood and new vines come back each year. They are pretty plants but are quite messy next to patio, dropping flowers. We have lots of humming birds also bees & ants. When you have a trumpet vine, they have a tendency to have new plants springing up in the grass, a distance from the main plant!
Answer

this Question
I live in zone 7-8. I have two trumpet vines that are only 5-6 inches tall, and it's already September. The smallest gets morning sun and afternoon shade. The bigger one, which I can actually tie to my trellis, gets morning shade and afternoon sun. They are so small. What am I doing wrong? What can I do to make them grow faster and bigger?
By Jube
Answers
September 12, 2011
0

found this helpful
I am in central Virginia, zone 7, and had trumpet vines with similar problems and mine hardly bloomed at all. I finally dug them up and planted passion flower vines. They have much prettier flowers and foliage, bloom all summer, are perennials and hummingbirds love them.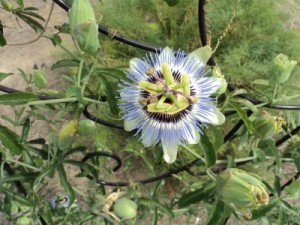 September 14, 2011
0

found this helpful
If you just planted them, they are likely growing roots first, then they will grow the foliage. If that is not the case, it may be your soil and the amount of sun they are getting. They actually like a poor soil and they prefer full sun. It can also take several years for the vine to get established.
Answer

this Question
My yard was an old farm and I have trumpet vines everywhere so maybe the old owners planted them or is there a wild version?
By Pam

Answers
September 2, 2013
0

found this helpful
Oh yes they grow wild and they take over everything. You have to get the roots because if you just cut them back, they will continue to grow. If there is a small crack in the boards of an old barn or out building, the vines will twine their way into the crack and climb over the building. They put out suckers and attach themselves to the wood.
Answer

this Question
My trumpet vine has green banana shaped pods on it about 6 inches in length. Is this normal? The plant is about 3 years old and produces a few flowers each year. Sorry, I have no photo.
By Sandy
Answers
September 9, 2011
0

found this helpful
Pods are normal. They will dry a brown color and fall off. Trumpet Vine spreads rapidly from the seeds in the pods and from underground roots. I planted a Trumpet Vine in Texas and it took over an entire flower bed, the fence and grew up the oak trees close by.
My husband hired someone to dig the bed down to three feet below ground level and fill it with new soil to get rid of the vine. The next spring the Trumpet Vine was back just as strong as ever. With Trumpet Vine you need to love it or leave it out of your garden.
Answer

this Question
I know that seedpods can be used to start a new trumpet creeper vine, but what if you took the new pods from a vine before they have dried? What is the best way to keep the seedpods until they are ready to be planted?
Thanks!
Hardiness Zone: 7a
By Pam from Statesville, NC
Answers
September 28, 2010
0

found this helpful
Simply let them dry in a covered area outside; however, to be honest with you, it takes a couple of years for a plant to bloom even one purchased from a nursery! So, why not instead join either a yahoo garden trading group near you and ask if anyone has one as they are notorious for sending up suckers everywhere! Or simply get an established plant as I did for $3.75 at a nursery? By the way, mine still has yet to bloom!
Answer

this Question
We have 2 very healthy and gorgeous vines, 1 is around a trellis and one was growing up and over a large shed. Both vines are 15+ years old. The one over the shed just fell down from a bad storm we had Friday, it is so heavy and laying on the ground. We don't know if we can pick it up and throw it back up over the shed. If we wanted to cut it back, would it grow back again, and how far do we cut it back? Thanks. Our flowers are so beautiful.
By LouLouBell
Answer

this Question
During the summer, what is the best way to trim spent flowers on my trumpet vine in order to encourage more blooming throughout the season? I've only had one round of blooms for the past 4 summers, and suspect it is the way we are trimming. Do trumpet vines usually bloom once?
Hardiness Zone: 9b
By Suz from Concord, CA
Answer

this Question
This is a page about starting a trumpet vine from seed pods. Starting new plants, such as the trumpet vine, from seeds is cheaper than buying a plant from the nursery.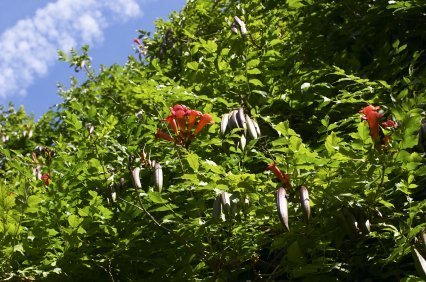 Archives
ThriftyFun is one of the longest running frugal living communities on the Internet. These are archives of older discussions.
Published by ThriftyFun.
© 1997-2021 by Cumuli, Inc. All Rights Reserved.
https://www.thriftyfun.com/Growing-a-Trumpet-Vine-1.html