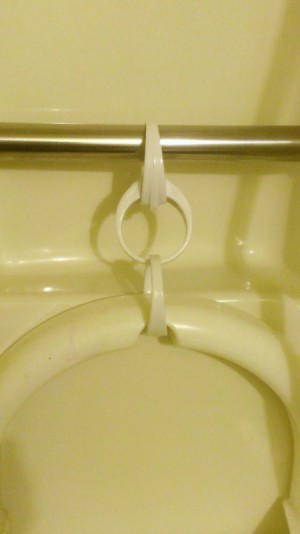 I love shower caddies. They are convenient and hook over the shower faucet just perfectly. Except when they don't. That was the case today when I went to hang mine. The faucet was so far forward that the caddy wouldn't stay put. Being beaned on the head with a bottle of shampoo might not be too painful, but a shower is no place to be startled, either.
So, while I was changing out the shower curtain rings to the metal ones with the little beads on them, I found myself with three of the old ones I didn't need. As you can see, they work really well. Everything is out of the way and still easy to reach.
NOTE: I have not moved my shampoo and things from the old place. So, I can't say how much weight you can put on it. If you already have a safe place for them, you could use this for kids toys, scrubbier, or bar soaps.
Hope this helps.